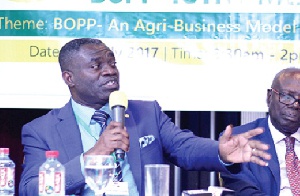 A staunch member of the National Democratic Congress (NDC), Appiah Stadium, has said there was no need for the former Deputy Minister of Food and Agriculture, William Quaittoo, to have resigned from his post over his ethnocentric comments.
Mr Quaittoo resigned after describing northerners as 'liars' and 'difficult' people to deal with.

The Akim Oda MP received a lot of flak from Ghanaians for uttering those words against the people of the north. He has retracted his comments and rendered an apology. He subsequently resigned following pressure from the Minority as well as several northern groups and northerners, including presidential staffer, Napaga Tia Sulemana.

But speaking on this matter in an interview with Accra 100.5FM's host of Ghana Yensom, Chief Jerry Forson on Thursday, August 31, Mr Stadium said: "In my opinion, he shouldn't have resigned. This is no issue that he has to pick his pen and paper to write a resignation letter. Probably because of the office he was occupying that has forced him to resign otherwise his comment to me is no big deal.
"Several people in the NPP, including Kennedy Agyapong and Dr Bawumia, have made worse comments than this but they are still occupying their posts.

"Kennedy Agyapong should have resigned long ago as Member of Parliament following the comments he has made in the past."