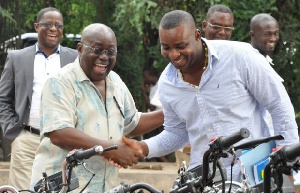 The invasion and subsequent burning of mining equipment and some other properties belonging to HANSOL Mining Limited by the inter-ministerial taskforce set up to clamp down on illegal mining activities, has attracted a judgement debt worth US$1billion.
Jacob Osei Yeboah, the independent presidential candidate in both 2012 and 2016 general elections, who disclosed this to Fiifi Banson on Anopa Kasapa on Kasapa 102. 5 FM, Monday, said the State was slapped with the amount by the Court after determining that the action of the inter-ministerial taskforce was illegal.

"The State has to pay US$1billion to Wontumi because of all the things that they destroyed. They destroyed his excavators and other things. They also distributed some of his equipment among NDC footsoldiers to go and do 'galamsey'," he noted.

"That is the ruling," he added.

The Ashanti Regional Chairman of the New Patriotic Party (NPP), Bernard Antwi Boasiako, aka Chairman Wontumi, who is the Managing Director of HANSOL Mining Limited in 2013, had his company ransacked by an inter-ministerial task force made up of security personnel on suspicion that the company had brought in some Chinese nationals to engage in illegal mining activities.

The task force, Kasapafmonline.com understands, allegedly made away with some valuables including money, gold and some other equipment and later set the entire place in flames even though they found no foreigner at the site.
Wontumi after the exercise, accused the government which was headed by the immediate past President, John Dramani Mahama, of deliberately targeting his business and destroying it.

He recounted the ordeal he, together with his staff, were subjected to and further disclosed that his company had 500 excavators before the security operatives invaded the precincts of HANSOL Mining but could only account for 200 after the exercise.

Worried about the exercise, he took the matter to court for redress.

But Jacob Osei Yeboah commenting on the issue said prior to Wontumi going to court, the Ashanti Regional Chairman of the NPP had wanted to curse the President for making him a poor man.

"Wontumi was about coming out to curse the President and when I got wind of it, I called him personally and counselled him to stop that. This is because, once you curse a President, you have cursed the entire nation. He took my advice and rescinded his decision," he noted.