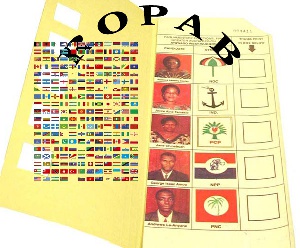 Fri, 3 Mar 2006 Source: GNA
Bole (N/R), March 3, GNA - Alhaji Abubakar Saddique Boniface, Northern Regional Minister on Thursday indicated that the Representation of the People's Amendment Law (ROPAL) would benefit all political parties in the 2008 Elections and beyond.

He has, therefore, advised Ghanaians not to be swayed by the demonstration of the opposition parties.


Alhaji Boniface stated this when he addressed separate durbars of chiefs and people at Bamboi, Jama, Seripe and Bole in the Bamboi District.


The Minister is on a seven-day official tour to the western corridor districts of the Northern Region, comprising Bole, Bamboi, Sawla-Tuna-Kalba, West Gonja and Central Gonja.


The Minister, who started the tour on Monday, has already visited some communities in the Bole, Bamboi and Sawla-Tuna-Kalba where he explained government's development agenda and inaugurated some projects. Alhaji Boniface explained that ROPAL was the brainchild of the Provisional National Defence Council (PNDC) and National Democratic Congress (NDC) governments and said he wondered why members of the Party now saw the law as bad, with the potential of causing mayhem. The New Patriotic Party (NPP) was a listening government, which believed in good governance and rule of law and would not do anything to disturb the peace in Ghana, he said.

"Now that the NDC is disassociating itself from the implementation of ROPAL in 2008, what could they do if it happened that they won the majority of the Diaspora vote?"


Alhaji Boniface said nothing on earth lasted forever and if it was designed by fate that the NDC would win power in 2008, ROPAL could not stand on their way and called on them to recognize Diaspora votes. "Remember you can force an animal to the river but you cannot force it to drink water," he said, and explained that although the NPP would fully implement the ROPAL, they could not force Ghanaians outside to vote for the Party.


He advised Ghanaians to uphold the peace that the nation was enjoying. Alhaji Boniface also called on the communities he visited to take the National Health Insurance Scheme seriously and to register for affordable health care. All the communities he visited appealed for social amenities and income generating opportunities.

Source: GNA