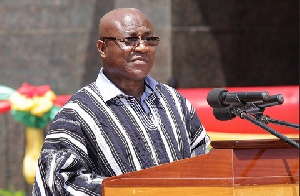 The Right To Information (RTI) Coalition in Ghana has expressed disappointment with the current parliament over the manner it is handling the RTI Bill.
The bill was expected to be passed before parliament went on recess on Saturday, 28 July 2018.

Speaking with the parliamentary press corps just before the house went on recess, Majority Leader Osei Kyei-Mensah-Bonsu said parliament may consider the passage of the bill when it reconvenes.

"We have so many clauses to consider and yet parliament is taking an adjournment on Saturday, it will not be possible for us to complete it [Right to Information Bill].

In a reaction, the RTI Coalition said: "The Majority Leader of parliament, Hon. Osei Kyei-Mensah-Bonsu, on Wednesday, 25 July 2018 indicated at a press briefing in parliament that the House will not be able to pass the Right to Information (RTI) Bill due to the fact that there are so many clauses to look at. The Coalition on the Right to Information, Ghana, wishes to express their disappointment at the slow pace at which parliament has handled the consideration stage of the bill so far, and hopes history is not repeating itself. In spite of that, we are expecting that the lengthy discussions of each clause which has resulted in only six of them being discussed means our lawmakers will, in the end, give Ghana a credible, efficient and effective Right to Information Law.

"It will be recalled that on 23 March 2018, the RTI Bill 2018 was laid before Parliament and referred to the Joint Committee on Constitutional Legal and Parliamentary Affairs, and Communications. The Committee laid its report and the second reading was done on 7 June 2018. Subsequently, on 11 July 2018, the consideration of the Bill began. Throughout this period, the Coalition engaged continuously with the Joint Committee, other Members of Parliament and the general public.


"We agree with the Majority Leader that parliament cannot pass an 'excellent' law, however, we expect parliament to pass a law that is fit for purpose based on international best practices which abound, (e.g. AU Model Law on Access to Information and others), and which the Coalition has consistently engaged Parliament on and also provided and continues to provide information thereon. We believe enough work has been done on this Bill and no effort should be spared to ensure the passage of a credible law."

The statement added: "Inasmuch as we are optimistic that the Bill will be passed by this parliament, we have not in any way 'forgotten that we have gone this way before'. We, therefore, hope that going into the last sitting of parliament for 2018, the processes will not follow a similar trend to what occurred in the Sixth Parliament where consideration was interrupted severally to accommodate other Bills and subsequently the Bill was not passed.

"We expect that while our elected representatives are on recess from Saturday July 29, 2018, they will keep in mind the clauses in the RTI Bill that the Coalition has identified as problematic i.e. Clauses 3, 5, 8, 9,12,13,17,38, 85, 89 and 92.

"Considering the back and forth, prolonged delays and unfulfilled promises from our elected leaders, when the RTI Bill is finally passed Ghanaians must be able to say that this is a law that was worth waiting over 16 years for."