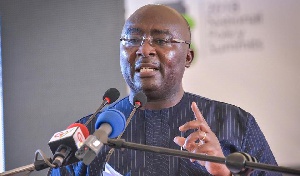 Despite assurances that the controversial Right to Information Bill, which has been dragging over a decade, will be passed this year, Vice President Dr. Mahamudu Bawumia says that cannot be possible.
Though he said the government was committed to the passage of the bill, his checks at Parliament has revealed there were still a lot of work to be done on the bill which is currently at the consideration stage in Parliament.

Speaking at a ceremony in Accra to commemorate International Anti-Corruption and Human Rights Day Monday, Dr. Bawumia said the government has taken note of the strong advocacy for the bill to be passed to boost corruption fight.

"I just asked the right honourable first deputy speaker where we are because we keep asking for updates and he tells me they have considered about half of the amendments to the bill so far," he said.

In view of that, he said "it looks like all things being equal, early in the next session of parliament, he tells me, this bill that has been sought after for the last 20 years, by the grace of God and with your effort, we should see it passed," he assured.

The latest development is likely to trigger intense pressure on parliament whose Speaker four weeks ago, assured Ghanaians that the bill will be passed before the end of 2018.

"The Right to Information Bill will be a thing of the past by end of this year. I can assure you, it will be done," Prof. Mike Ocquaye stated at the time.
Passage of the bill will give Ghanaians the right and access to official information held by public institutions and private institutions which performs public functions with public funds.

Drafted in 1999, the bill was presented to parliament in 2010 after it received reviews in 2003, 2005 and 2007.

The apparent delay in passing the bill has triggered various campaigns to push parliament to pass it into law early.

Two weeks ago, OccupyGhana and the Media Coalition on the Right to Information declared what it termed #RTIRedFriday, which will see members on streets and parliament on Fridays to do advocacy for the passage of the bill.