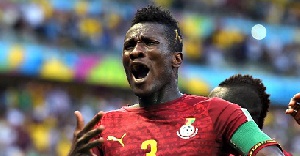 Black Stars captain Asamoah Gyan is calling fans of the Black Stars particularly residents of Cape Coast (Cape Coasters), to throng to the Stadium for Sunday's game against Egypt.
Lay followers of the game have attached little importance to the match due to how the outcome will not reverse Ghana's 2018 World Cup woes.

Conversely, Gyan believes factors like FIFA ranking purposes, team building have been their guiding principle from the time they received respective invitations from coach Kwasi Appiah.

As a result, he made an appeal to the fans on day one after training session to come in their numbers to rally support for them.
The Turkish-based striker said "I expect Cape Coast fans to come in their numbers and support the Black Stars. This is the first time we are playing in front of the Cape Coast.

"Most players have not played here before likewise many of the fans, so I see this as an opportunity to connect to our numerous fans.

"It's going to be a 50-50 thing, so am pleading to everyone to support and I am also pleading for massive publicity."