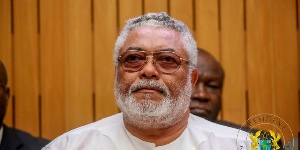 Former President Jerry John Rawlings has been discharged from the Cardio centre of the Korle-Bu Teaching Hospital after being admitted over a low blood count incident.
A statement from Mr Rawlings' office signed by Kobina Andoh Amoakwa of the Communications Directorate said: "The office of His Excellency Jerry John Rawlings wishes to assure the general public that the former president is in his usual state of good health and is able to meet the demands of his daily routine activities".

The statement said as reported on Mr Rawlings' Facebook page a couple of days ago, Mr Rawlings "was admitted to the cardiothoracic unit of the Korle-Bu Teaching hospital a week ago as a precautionary measure to manage a low blood count condition.

"The primary cause has since been detected and managed.

"He was not rushed to the hospital as erroneously published in a newspaper on Wednesday, 26 September 2018.
"The Medical team who managed him have not recommended any further treatment outside the shores of Ghana.

"The former president has no immediate plans of seeking medical treatment outside the country.

"The former President is grateful to all well-wishers who have called or sent messages of concern. He is also thankful to the doctors and nurses at the Korle-Bu Teaching Hospital for their care during his stay at the hospital", the statement said.