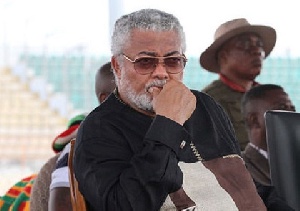 Former President Jerry John Rawlings on Thursday, described the late Oblempong Nii Kojo Ababio V, Paramount Chief of the Ngleshie Alata Traditional Area and Jamestown Mantse, as an exceptionally remarkable man, whose reign was peaceful.
He said the late Paramount Chief was a man of peace, who opened his doors to all political parties in the country.

Former President Rawlings made the remarks when he joined the family, the chiefs and people of the Ngleshie Alata Traditional Area and Jamestown Mantse to mourn the late Oblempong Ababio at Jamestown in Accra.

He said the demise of Oblempong Ababio had created a vacuum, which he prayed should be filled as quickly as possible to avoid unnecessary tensions in the Traditional Area.

"Over the years, Nii Kojo Ababio applied wisdom and knowledge in his rule, bringing progress in its trail. By sheer sagacity, he got Ngleshie Alata raised from a divisional status to a Paramouncy," he said.

"His reign was largely peaceful and it is my hope that the people of Ngleshie Alata and indeed, the whole of Ga Traditional Area will work in unity to ensure a befitting send off for our great King."

Nii Ngleshie Addy II, the Acting President of the Ngleshie Alata Traditional Area, said with the help of God, they would go through the rest of the days of week-long funeral of the Paramount Chief successfully.
He said the Traditional Area and Jamestown was still mourning the demise of their late Paramount Chief; and that as soon as the mourning period was over, they would begin to take steps to install a new chief.

Oblempong Nii Kojo Ababio V passed on December 22, 2017, after ruling for 39 years as President of Ngleshie Alata Traditional Council in the Ga State and as James Town Mantse.

The former President was accompanied by Nii Okaidja Adamafio, a former Minister for the Interior.

Oblempong Nii Kojo Ababio V, who was known in private life as Mr Ezekiel Quarmina Allotey Cofie and a brand name as Dentist Cofie of Korle-Bu Teaching Hospital, was born on June 12, 1920 at James Town, British Accra.

He was the son of Mr William Cofie of Aflangai Shia, Naa Korle We and Madam Delphina Owoo from Naa Sally We Krotia Division, Adjumaku of the Royal Stool of Ngleshie Alata (James Town) Accra.