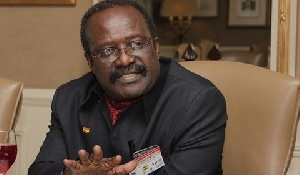 Former President Jerry John Rawlings has subtly rejected Kwesi Ahwoi, one of the Ahwoi brothers, as running mate to former President John Mahama for the 2020 elections in the event that delegates elect him to lead the National Democratic Congress (NDC).
Mr. Mahama is currently campaigning to lead the NDC once again into the 2020 presidential election, and pundits have tipped him to win the party's primary.

Even though Mr. Mahama has not been given the nod by delegates of the party, the issue of who becomes his running mate is likely to further divide the already 'fractured' NDC, the largest opposition party in the country.

The relationship between Mr. Rawlings and the Ahwoi brothers over the years has 'deteriorated' and it appears reconciliation is a distant reality.

Mr. Rawlings on Monday took to Tweeter to apparently express his opposition to any Ahwoi brother that becomes the running mate to Mahama.

"Isn't the Presidency too busy a place for hopefuls/running mates who spend a little too much time grooming their moustache and dyeing their hair?" Rawlings tweeted in apparent reference to Kwesi Ahwoi.
Kwesi Ahwoi served as Minister of the Interior and Ghana's High Commissioner to South Africa under John Mahama, having served as Agriculture Minister under President John Atta Mills.

He was said to have been positioned to take over from Mills before his sudden death, paving way for John Mahama to take control of the NDC.

The Ahwoi brothers are believed to have firm grips of the NDC and John Mahama needs their support.

It would be recalled that recently Kwamena Ahwoi produced a short video in which he endorsed the candidacy of Mahama.

In the purported video, Kwamena Ahwoi, a former Local Government Minister under Jerry Rawlings, indicated that former President Mahama, who was booted out of power in 2016 due to 'incompetence,' among others, "knows how to handle the stresses of leadership."
He went ahead to describe Mr. Mahama as someone who is composed and remains true to the values of the NDC.

"To me, John Dramani Mahama is the best man for the job, we need a steady and experienced hand, someone who can remain composed under the pressure of the campaign race and still remains true to the values of our great NDC."

DAILY GUIDE learnt that typical of Mahama, he has equally promised some other people, including Prosper Bani, his former Chief of Staff and Julius Debrah, who took over from Bani, the running mate slot.

The former president's indecision is major concern in the contest for the party's leadership position, as Mr. Mahama is said to be constantly pledging his support for various candidates vying for the chairmanship position.

He reportedly pledged his support to Betty Mould-Iddrisu and later switched to Danny Annan, whom he poached from Prof Joshua Alabi's Camp only to dump him for Daniel Abodakpi in order to win massive votes from the Volta Region.