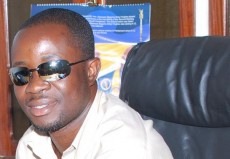 Tue, 9 Nov 2010 Source: --
A business partner of Mr. Edward Kufour, Mr. Kwame Poku, has confirmed on Asempa Fm, a metropolitan radio in Accra, that indeed he and Edward Agyekum Kufour executed a contract for the supply of pre-paid meters.

He said that claims by his partner that he has nothing to do with the said pre-paid contract is not true adding that they are still in court in respect of disputes over the said contract. He told producers of Asempa Fm that because the case was in court, he did not want to go into the details of it.


Meanwhile, The Editor-In-Chief of The Enquirer, Mr. Raymond Archer, says he is horrified by denials from Edward Agyekum Kufuor, son of former President Kufuor, that he was not a beneficiary of a $1.8 million contract for the supply of pre-paid meters.


Mr. Archer said that Edward Kufuor, a professional actor, might have missed his acting career when he stated on Asempa Fm has never be awarded any contract for the supply of pre-paid meters from the ECG.


Mr. Archer said, the contract was awarded in the name of Aces Company Ltd. According to him, Edward Kufuor, who filed for bankruptcy in 2007 in the USA and returned to Ghana with his African American Wife, Renee Jackson Kufuor, is currently in court suing his partner, Kwame Poku over disputes regarding the sharing of the proceeds of the contract for the supply of the pre-paid meters. Mr. Archer said, if a man who is in court , suing his partner over the pre-paid contract can come out and say a things like that, then the only thing that has to happen is to let him go to court.

Speaking on Asempa Radio, Mr. Archer said, because of the claims of Edward Kufuor, he would now go the full length to bring out the story regarding the pre-paid contract adding that he will bring other dimensions of the story which he has not even made it to the public yet.


Mr. Archer said that he is not perturbed by the subtle threats from Edward Kufuor, of going to court, saying that he will relish that opportunity, since that will also give him the chance to surprise Ghanaians about other matters he intends to bring to the fore.


Mr. Archer said, he will publish Mr. Edward Kufuor,'s rejoinder, because he is constitutionally entitled to a rejoinder but he won't retract the story or apologize to him.

Source: --