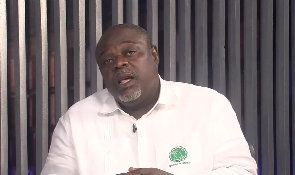 Samuel Koku Anyidoho, a former deputy general secretary of the National Democratic Congress (NDC), has criticised the government over the brouhaha surrounding the reintroduction of road tolls.
According to him, the decision to cancel the road toll in November 2022 was totally needless and ill-thought.

In a tweet shared, on Tuesday, March 14, 2023, Anyidoho said that he cannot comprehend why the tolls were cancelled since Ghanaians were not complaining about them and had accepted that it was needed for the construction of roads.

"Honestly, I never understood and still don't understand why the government scrapped road tolls. Nobody ever complained about road tolls (we are complaining about other issues), because we know that we need to be responsible for maintaining our roads. Hmm!!!" parts of the tweet read.

Anyidoho made these remarks while reacting to a press statement by the Minister of Finance which indicated that the tolls were going to be reintroduced.

In the press release sighted by GhanaWeb, the finance minister wrote to the Ministry of Roads and Highways to confirm that approved fees on roads and bridges will be reintroduced this year.
According to Ken Ofori-Atta, "It is provided under Section 6 of Act 1080 for the Minister to amend the schedules of the Act to include or exclude MDAs and/or adjust the fees and charges collected by MDCs for their services through a Legislative Instrument when necessary."

"Accordingly, this ministry has initiated steps to provide for foundational rates for tolling of roads and highways as part of the amendments of the Act, pending completion of the process to identify the rods and highways to be affected by the reintroduction of the road tolls as stated in the budget," he added.

The approved fees and charges for motorbike users will pay 50 pesewas instead of 19 pesewas.

Saloon car users will pay a fee of GH¢1 rather than the previous 50 pesewas fee.

Pick-ups/4x4 vehicles and light bus users will be charged GH¢1.50 pesewas when the toll booth reopens.
Drivers of heavy buses will also pay GH¢ 2 instead of the GH¢1.50 pesewas they used to pay.

For drivers of medium and heavy goods trucks up to 4 axles, the fee to be paid will be GH¢3 instead of GH¢2.

View the tweet below:


Honestly, I never understood and still don't understand why the government scrapped road tolls. Nobody ever complained about road tolls (we are complaining about other issues), because we know that we need to be responsible for maintaining our roads. Hmm!!! pic.twitter.com/4spJFuBTBk

— Samuel Koku Anyidoho???????? (@KokuAnyidoho) March 14, 2023
Watch the latest episode of The Lowdown below:




IB/SARA