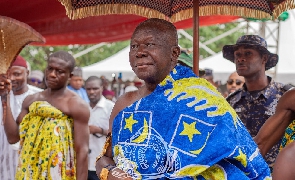 The Asantehene, Otumfuo Osei Tutu II, has highlighted the increasing occurrence of coups across the African continent as a wake-up call for African leaders to effectively manage their economies.
He stressed that better economic management can break the cycle of poverty and unemployment, providing hope for the youth to stay and contribute to the continent's development instead of seeking opportunities abroad.

"We have to do better in managing our economies to break the cycle of poverty and unemployment and give hope to our able youth to remain and work for the development of our continent instead of seeking the least opportunity to escape for greener pastures elsewhere…," the Asantehene stated.

"No African leader can sleep happy so far as there's an African boy willing to make the perilous journey of modern day migration," he added.

Speaking at the St. Andrews Africa Summit in Scotland, the Asante monarch emphasised that as long as African youths are willing to take perilous journeys abroad, no African leader can be content.
His advice follows recent coups in several African countries, including Gabon, Mali, Guinea, Chad, and Niger.

While firmly condemning coups and rejecting them as viable solutions to Africa's issues, he urged African leaders to reflect on these events as indicators that something is amiss in the democratic experiment.

The Asantehene suggested that these events prompt a critical evaluation of the democratic structures and constitutional arrangements within African states, reinforcing the need for effective reform and governance.

"I do not think it signals rejection of democracy as a system of governance but rather, it brings into question the structures we have built in our democratic system, and that, I will suggest reinforces the questions we've been raising about the constitutional arrangement of the African democratic state," he stated.