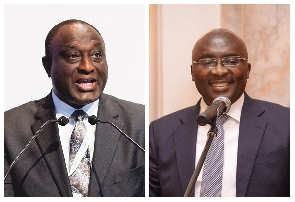 Fact-checks and investigations have revealed that the organisations that recently announced that Vice President Dr Muhammadu Bawumia is leading Former Minister of Trade and Industry, Alan Kwadwo Kyerematen in a New Patriotic Party (NPP) presidential primaries polls they undertook are unlikely to be credible think tanks or research institutions.
The organisations Center for Sustainable African Development Initiatives (CSADI) and Outcomes International Ghana (OIG) are unknown institutions with scanty information on them which, comes with credibility and authenticity challenges.

19 Wisden Road, Stevenage Hertfordshire SG1 5NJ, UK is the registered address of Sustainable African Development Initiatives, the main organisation responsible for the suspicious credibility deficient polls.

Investigations revealed it has unreported telephone number, unreported email address, unreported website, etc. which is very unlike a credible international think tank or research institution in any modern society. https://find-and-update.company-information.service.gov.uk/company/14001084

Going to every elections, various think tanks, research institutions, media houses and individuals conduct audience researches to aid political analysis and conversations.
In recent times, however, mushroom organisations sprout all over the place to influence national political discourses with all manner of predetermined research findings to create bandwagon effects for their clients or favourite aspirants.

"Our politicians know that a lot of people are gullible so they can easily get their attention with some of these cooked polls results to create a bandwagon effect on their audiences," one political analyst observed.

"Otherwise, why would anybody take a research body established about a year ago without any well-built credibility and reputation serious enough to discuss on major news and current affairs platforms without interrogating the source and other tangible details?" he asked adding, "now that we know that it's bogus, let discard it.

"But, next time, journalists must first vet and interrogate the backgrounds of sources critically, check the methodology and other tangible features of authentic and credible research work before they disseminate the findings."