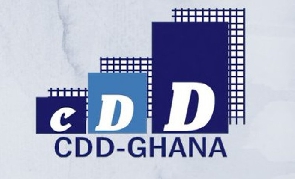 The governance and policy think tank Centre for Democratic Development (CDD-Gh) is appealing to President Nana Addo Dankwa Akufo-Addo to reconsider his decision to appoint Dr Peter Appiahene to the board of the Electoral Commission (EC).
He said the mere fact that Dr Appiahene is a patron of the Tertiary Education Confederacy (TESCON) which is a student body affiliated to the governing New Patriotic Party is problematic.

He urged the president to take a second look at the appointment of Dr Appiahene.

He wondered if the appointment of Dr Appiahene was done in consultation with the Council of State in accordance with Article 71.

He maintained that the appointment has the potential to generate conflict.

Dr Abrampa raised concerns with the president's latest appointment to the EC board while speaking in an interview on Accra-based Joy FM on Tuesday, March 21, 2023.
The president on Monday, 20 March 2023, appointed three new EC board members namely; Rev Akua Ofori Boateng, Salima Armed Tijani and Dr Peter Appiahene.

Their appointment is in line with Article 43 (1 and 2) of the 1992 Constitution which states: "There shall be an Electoral Commission which shall consist of a chairman, two deputy chairmen, and four other members.

The members of the commission shall be appointed by the President under article 70 of this Constitution."

President Nana Add Dankwa Akufo-Addo in swearing the EC board members in urged the Electoral Commission (EC) to be firm with its decisions as the 2024 general elections approach and not allow itself to be railroaded by anyone since its decisions would be closely monitored by Ghanaians.

"It is no secret that I have spent most of my adult life trying to fight for the establishment of democracy and human rights in this country and I have always fought and advocated credible elections in Ghana", Mr Akufo-Addo said.
"In emphasising the importance of the credibility of elections, it must be pointed out that the counting, collation and declaration of the results, cannot and should not be more important than the sacred God-given rights of the citizen casting his or her ballot", he added during the swearing-in ceremony of three EC Board members at the Jubilee House.

He told the EC: "Remember that now and ever, every single decision you take will be scrutinised to the letter."

"That, however, should not scare you and let no one try to coerce you into submission," he said. "On the contrary, let this expectation of the Ghanaian people spur you onto great heights and above all, work to ensure that the will of the Ghanaian people is upheld."

The EC recently laid a Constitutional Instrument (CI) in Parliament meant to make the Ghana card the only document for voter registration.

The main opposition National Democratic Congress (NDC) and its minority caucus have kicked against it.
For his part, the National Communications Officer of the NDC, Samuel Gyamfi, expressed worry about the president's penchant for bastarding state institutions by packing them with cronies of the NPP.

You can also watch this episode of People & Places here: