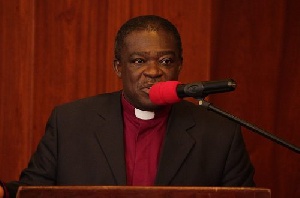 Former General Secretary of the Christian Council of Ghana and coordinator of the Alliance for Christian Advocacy Africa, Rev Dr Kwabena Opuni Frimpong has taken on lawyers and judges for failing to redeem their poor public image.
He said that the Ghanaian public does not seem to see lawyers and judges in a positive light because of perceptions of corruption and bias, which they (lawyers and judges) have failed to dispel.

Rev. Opuni Frimpong, famed for his forthright commentary on public issues, noted that such negative perceptions have led to a loss of trust in the judiciary and its ability to administer justice.

Rev Dr Opuni Frimpong made the remarks at a mass to mark 41 years since the gruesome murder of three High Court judges and a retired soldier – Justice Fred Poku Sarkodie, Mrs Justice Cecelia Koranteng-Addow, Justice Kwadwo Agyei Agyepong, and Major Sam Acquah.
"Forty-one years on, there are real public perceptions that is not in your favour; that is not the story of these people we are celebrating. But after 41 years, this one is your story. Redeem your public image. Ghana Bar Association (GBA) must redeem its public image because how Ghanaians are thinking about lawyers and judges is not in your interest…There is still a notion in this country that Justice is for the highest bidder; justice is for the privileged individual; justice is not for 'village' people, women accused of witchcraft. There are people who still believe that," he thundered.

He urged the Ghana Bar Association to endeavour to work to reverse this negative state of affairs and restore confidence in the judiciary.