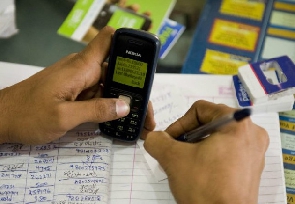 To help increase digital adoption in the country; especially within the business community, the General Manager of Cellulant Ghana Limited, Eric Kortey, has noted that some barriers need to be addressed.
He stated that to boost digital payments, government must reduce the charges on electronic transfers [E-Levy].

The reduction in the cost, he professed, would allow many individuals and businesses to use digital payments more.

Speaking on the theme "Addressing barriers to digital payments in Ghana" at an MTN MoMo forum in Accra, Eric Kortey said, "This payment system provides such a volume-based business - you either keep the cost high and get less or you reduce it and get more."

"Since we want to increase digital adoption, reducing E-Levy charges would help address such barriers."

According to the FinTech office at the Bank of Ghana, statistics showed that the percentage of active mobile money accounts to registered mobile money accounts reduced from 38.8 per cent in June 2021 to 37.0 per cent in June 2023.

The introduction of E-Levy, according to government forms part of measures to help improve its domestic revenue mobilization.
Following several criticisms, the E-Levy tax was reviewed downwards from 1.5% to 1%.

Data from the Ghana Revenue Authority (GRA) revealed that the Electronic Levy (E-Levy) generated GH¢246.9million in revenue.

It accounted for 11 percent of the projected GH¢2.24billion for the year.

Since its implementation in May 2022, the E-Levy had generated a total of GH¢861.47million revenue by March 2023.

SA/NOQ

Ghana's leading digital news platform, GhanaWeb, in conjunction with the Korle-Bu Teaching Hospital, is embarking on an aggressive campaign which is geared towards ensuring that parliament passes comprehensive legislation to guide organ harvesting, organ donation, and organ transplantation in the country.
Watch the latest edition of BizTech and Biz Headlines below: