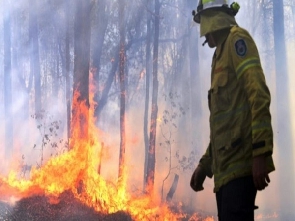 The Head of Marketing for the Electricity Company of Ghana (ECG) in the Eastern Region, Abraham Lincoln, has admonished all residents in the region to help them prevent and control bushfires in order to improve the level of services they provide.
He said this after the power distribution company reported that during the first few days of 2023, a total of 18 poles have been burnt in its operational zones.

The affected areas include Donkokrom where five poles were affected, three poles in Begoro, two poles in Mpraeso, and one in the Asesewa all gutted by bushfires.

Abraham Lincoln stated this in a Citi News interview and advised farmers to take extra precautions when establishing their farms due to the harmattan.
"We all know that we have entered the harmattan season and when we enter the harmattan season, one aspect of the season is the outbreak of bushfires this year, we have already experienced some bushfires in some of our operational areas, and we are urging our opinion leaders and customers to help us curtail some of these bushfires in the various communities," he is quoted by citinewsroom.com.

"We want to urge farmers that if there is a wooden pole within the vicinity of their farmland, we will want them to create a fire belt around the poles before setting fires to prepare their farmlands to forestall any occurrences of burnt poles which often results in unplanned outages within the locations that they find themselves," he added.

AM/MA