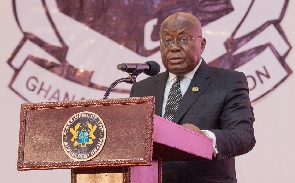 Political Science Lecturer at the University of Ghana (UG), Dr. Asah Asante has advised President Akufo-Addo to reduce the number of Supreme Court Judges.
According to him, Ghana does not have the resources to handle huge numbers of Supreme Court Judges as compared to other developed nations such as the US but rather has a lesser number of Supreme Court Judges.

Speaking on Morning Starr with Francis Abban on Wednesday September 13, 2023, the senior political science lecturer stated that the government should reduce the number of the judges at the Apex Court and get well experienced senior lawyers to assist them.

"The politics of the numbers is the problem. Once we are able to do this we save ourselves including the unnecessary accusation of the judges for the work that they do. Sometimes the attacks on the judges you sit and ask yourself are we serious as a people about the work of judges?

"Sometimes, it is very unfair, it undermines their position but they are people with thick skins and sometimes they are able to weather the storm. More often than not it turns out to be very unfair, but if you have a situation that you can create and you are not going to worry anybody then all the attacks will not matter," Dr. Asante stated.

He continued: "So let us get the basis right, reduce the number and let us pass a law that yes there is a law that this a cap that's it and it's a small number. That we are going to support the judges with senior most lawyers who are going to work with those judges and then supply them with all the materials that they need so that they write their judgments."
Background

President Akufo-Addo has taken a swipe at former President John Mahama over his New Patriotic Party (NPP) and National Democratic Congress (NDC) judges' comment.

The former President and NDC Flagbearer, John Mahama at a recent conference by NDC lawyers admonished them to be ready to take up duties on the bench to balance the equation after accusing President Akufo-Addo of packing the bench with NPP judges.

Responding to Mr. Mahama, President Akufo-Addo criticized the pronouncements as a dangerous and brazen attack on the judiciary with a call on what he describes as right-thinking Ghanaians not to vote for the former president in the 2024 general elections.