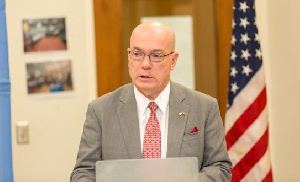 The United States Ambassador to Ghana Robert Jackson has stated that the refugee status granted the two ex-Guatanamo Bay detainees Mahmud Umar Muhammad Bin Atef and Khalid Muhammad Salih Al-Dhuby by the government of Ghana came as a surprise to him.
"I did not know until this week that they had been granted a refugee status," Mr. Jackson told Journalists in Wa in the Upper West region.

The US Ambassador added "That came as much of a surprise to me as all of you. However, that decision just gives them certain rights and if the government of Ghana wishes to relocate them to a third country, they need to discuss that with the two refugees under the international law".

According to Mr Jackson, the Government of the United States has no say in the matter anymore.

"We have no role in that and no objection to it. At this point we consider it as a matter between the government of Ghana and the two", he said.

The Foreign Affairs Minister Shirley Ayorkor Botchwey on Wednesday January 24, revealed that the ex-GITMO two detainees will remain in Ghana despite the expiration of their stay in the country.
Mrs. Ayorkor Botchwey said there was no exit arrangement in the agreement entered into by the Mahama administration and the US concerning the duo.

According to her, the two were granted refugee status by the former administration.

She added they will not be leaving Ghana and that they are the now the responsibility of the state.