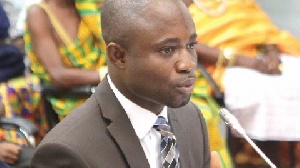 National Democratic Congress (NDC) Member of Parliament for Juaboso Constituency, Kwabena Mintah Akandoh has described the refusal of the Akufo-Addo led government to distribute the procured ambulances parked at Parliament House as a sign of "gross disrespect".
According to the Ranking Member on the Committee of Health in Parliament, the responses offered by government as to why the ambulances have still not been distributed to the various constituencies does not make sense.

" . . We came out to complain about the parked ambulances at the forecourt of Parliament which were procured with taxpayers' money . . . we thought that if this government has any respect and knows that we are all stakeholders in governance, they would have listened to our complaints and distributed the ambulances to the various constituencies," he chided.

When the issue of the parked ambulances at the forecourt of Parliament was raised by the Minority in Parliament, the Minister for Special Development Initiatives, Mavis Hawa Koomson explained that the training of paramedics and personnel had caused the delay.

Speaking on Okay FM's 'Ade Akye Abia' Morning Show, Hon. Mintah Akandoh hinted that the third strategy will be massive than the previous press conference held by the Minority.

"From the time we did our press conference up to this time, the responses we have received don't make sense to us. We are still on our stance that the government should distribute the ambulances to the various constituencies. From this time, we have to take another strategy; we have used two strategies but the government has not complied with them and so we are planning the third one," he revealed.

". . until the government adheres to our demand to distribute the ambulances to the various constituencies, we will not relax. We want the government to distribute them to save lives in the country," he insisted.


'First Batch of 275 Ambulances in Ghana'

In September 2019, President Nana Akufo-Addo announced the arrival of the first batch of ambulances for all 275 constituencies in the country.

96 out of the 275 ambulances are currently parked at the State House awaiting distribution.

The arrival of these ambulances forms part of the fulfilment of a promise made by the President and the NPP Government in the build-up to the 2016 general elections.