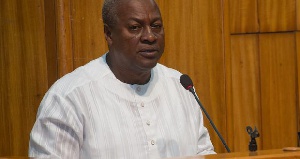 Former President John Dramani Mahama is commiserating with the Nduoms – owners of the Coconut Grove Regency Hotel in Accra after some offices within the hotel's compound were consumed by fire.
Thousands of Ghana cedis have been lost when the Amansan Television Studios and four commercial offices of Groupe Nduom caught fire on Saturday. According to management, the hotel itself is intact.

"Yesterday's fire at Coconut Grove Regency Hotel is a major loss to our hospitality industry. My thoughts are with Dr and Mrs Nduom and workers of Groupe Nduom," former President Mahama posted Sunday on his Facebook wall.



The Interior Minister Ambrose Dery visited the fire scene moments after it began and has assured of President Akufo-Addo's concern.

Faulty Air conditioner

The fire outbreak was caused by an air conditioning unit, management of the three-star hotel said in a statement.
The inferno destroyed the studios of Amansan Television (ATV) and four commercial offices of Groupe Nduom which share the same compound with the hotel situated at North Ridge near the headquarters of the Ghana Immigration Service at the Ako Adjei interchange.

Management said the hotel is safe.

"It is important to note that the Regency Hotel and its restaurant, guest rooms and conference facilities are intact and were not touched by the fire," Richmond Keelson, Groupe Nduom Corporate Affairs director stated.

Below is the full statement:

Fire at the Regency Hotel Compound.

Somewhere between 5.00 and 5.30pm this afternoon, staff of Amansan Television (ATV) noticed fire burning apparently from the direction of an air conditioning unit in their studio. When alarm, was raised, everyone ran to safety and an urgent call was made to the Ghana Fire Service to come and help put out the fire.
Two fire tenders came soon followed by three more. It has become apparent after about an hour and a half, that the Fire Service personnel have not been able to contain the fire at the studio. Now the fire has spread to other offices on the same block as the ATV studio. The ATV studio and four commercial offices of Groupe Nduom are on the same block.

It is important to note that the Regency Hotel and its restaurant, guest rooms and conference facilities are intact and were not touched by the fire.

We will keep the public informed with further developments as they occur.

Richmond Keelson

Groupe Nduom Corporate Affairs