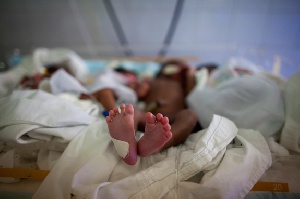 The Births and Deaths Registry in a week long mop-up free birth registration campaign, captured 434 children in the Kwahu Afram Plains North and South Districts of the Eastern Region.
The exercise under the auspices of the United Nations Children's Fund (UNICEF), which covered children from zero to 12 months, recorded 189 males and 245 females.

The Kwahu Afram Plains North had males 92 and females 131, giving a total of 223 children, whereas, the Kwahu Afram Plains South had a total of 211, which is made of 97 males and 114 females.

Mr Martins Adu-Amankwah, Deputy Eastern Regional Director, Births and Deaths Registry, described the week-long exercise as successful.

He said they were able to achieve the targeted results as demonstrated in the number of new-borns registered.

He said they were able to visit the hinterlands/islands; adding that the Births and Deaths Registry team took advantage to educate and sensitised parents on the need to get fresh births registered for socio - economic development of their respective communities.

He explained that parents, who were living in communities that were difficult to access, were transported together with their children to and from registration centres for their data to be captured.
On challenges encountered by the team in the mop-up exercise, Mr Adu-Amankwah mentioned ignorance on the part of parents with regards to registration and certification, late naming of infants and doubtful paternity.

He said the Registry needed consistent funding to be able to capture data in the hinterlands.

He expressed gratitude to UNICEF for the supply of funds for the mob-up; adding that the exercise wouldn't have been possible without funds.

He said the mop-up exercise would be pursued to cover other districts in the Region such as the Kwaebibirem, Denkyembour, Kwahu East and South.

He advised parents to efficiently take advantage of registering their children, especially those at the hinterlands in which access to Births and Deaths Registry Offices was extremely difficult, except when the mobile team was around.

The mop-up free birth registration exercise in Kwahu Afram Plains South and North Districts sought to increase the mobilisation of births within the two districts.
UNICEF in collaboration with the Births and Deaths Registry would also be extending the exercise across all 10 regions of the country.

From this month to December, the Births and Deaths Registry with the support of UNICEF would be reaching communities in 75 districts, which have some of the lowest birth registration rates in the country.

According to UNICEF, currently, more than 30 per cent of children under the age of one in Ghana were not registered.

The objective of the campaign – is therefore to make more Ghanaians aware that it is free to register a baby before the age of one; that birth registration is accessible to all, and to increase the overall number of children registered in order to reach the planned target of 70 per cent registration in 2018.