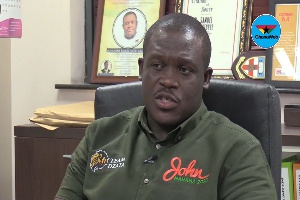 The Member of Parliament for Ningo Prampram, Sam Nartey George, has asked whether the government will cancel the Electronic Transfer Levy (E-Levy) now that it is planning to reintroduce road tolls.
According to him, the government clearly stated before implementing the E-Levy that the levy was a replacement for road tolls.

"They told us that they were introducing the E-Levy because they had removed road tolls. Are we to now understand that because road tolls are coming back, we will stop paying E-Levy?

"I think that this is a question we must be legitimately asking and demanding proper answers. Because one of the reasons and justifications for this poorly thought out policy was that we are going to pay E-Levy; E-Levy was going to be used for roads and so no need for road tolls," the MP said in an interview on Good Morning Ghana, on Tuesday, monitored by GhanaWeb.

"Now, we are not just bringing back the road tolls; we are bringing it back with an almost 100 percent increase in all the tolls," he added.

The MP made these remarks while reacting to a press statement by the Minister of Finance which indicated that the tolls were going to be reintroduced.
In the press release sighted by GhanaWeb, the finance minister wrote to the Ministry of Roads and Highways to confirm the approved fees as tolls on roads and bridges will be reintroduced this year.

According to Ken Ofori-Atta, "It is provided under Section 6 of Act 1080 for the Minister to amend the schedules of the Act to include or exclude MDAs and/or adjust the fees and charges collected by MDCs for their services through a Legislative Instrument when necessary."

"Accordingly, this ministry has initiated steps to provide for foundational rates for tolling of roads and highways as part of the amendments of the Act, pending completion of the process to identify the rods and highways to be affected by the reintroduction of the road tolls as stated in the budget," he added.

The approved fees and charges for motorbike users will pay 50 pesewas instead of 19 pesewas.

Saloon car users will pay a fee of GH¢1 rather than the previous 50 pesewas fee.
Pick-ups/4x4 vehicles and light bus users will be charged GH¢1.50 pesewas when the toll booth reopens.

Drivers of heavy buses will also pay GH¢ 2 instead of the GH¢1.50 pesewas they used to pay.

For drivers of medium and heavy goods trucks up to 4 axles, the fee to be paid will be GH¢3 instead of GH¢2.

Watch the interview below:


Reintroduction of Tolls: Does this mean E-Levy would be cancelled? - @samgeorgegh #GoodMorningGhana #MetroTV pic.twitter.com/YphJnPzWNi

— Metropolitan Television (@metrotvgh) March 14, 2023
Watch the latest episode of The Lowdown below:





IB/SEA