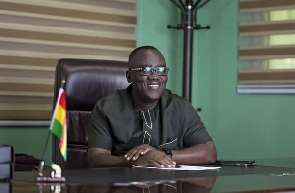 'A man dies but his tongue does not rot,' is a popular Ghanaian proverb that connotes the impact words or statements make on people.
This short, yet, powerful quote means our words lived on even after our death. It encapsulates the importance of words and how utterances we make today become the image people form of us long after our exit from this planet.

If there's one person that typifies this profound quote then it's the late General Secretary of the New Patriotic Party.

Kwadwo Owusu Afriyie known widely as Sir John was undoubtedly a master at making succinct utterances that left undeletable impressions on people.

A typical Ashanti man with an unquestionable dexterity in the Twi language, Sir John knew how to weave words together to solicit emotions of excitement, anger or laughter depending on which side of the political divide you stand.

At the height of his tenure as a General Secretary, Sir John was the go-to guy for many radio and TV presenters who craved for soundbites and controversies and he never let them down.

As Ghanaians mourn the death of the man whose 'partnership' with Asiedu Nketiah dominated the airwaves between 2010 and 2014, GhanaWeb brings you five memorable quotes of Sir John.
Fear delegates

Sir John may have tons of quotes credited to his name but this is without a shred a doubt the most popular and most profound of them.

In 2014 Delegates Conference in Tamale, Sir John lost his position as general secretary of the NPP after polling 1,960 votes compared to Kwabena Agyei Agyapong, who obtained 2,520.

Prior to the elections, Sir John was confident of retaining his position but the result turned out otherwise.

His parting words, "Fear delegates, not ghosts" gets more popular by the day.


I'm a utility player

Sir John caused a stir during the NPP Presidential primaries in 2014.

The lawyer displayed his ballot paper as proof of his vote for Akufo-Addo. Sir John in an interaction with the media delivered one of his quotable phrases. He vowed to do everything possible to deliver victory for the NPP.

On the role he was going to play in Akufo-Addo's government, Sir John said "I will work everywhere. I'm a utility player".

Asiedu Nketia behaves like a lizard

Although close friends, Sir John and Asiedu Nketia never passed on an opportunity to jab one another. The peak of their verbal bouts was the 2012 election petition, which led to the GJA cautioning media houses against interviewing the two on the legal battle that was being fought at the Supreme Court.
In one of his attacks, Sir John described Asiedu Nketia as a 'lizard and 'opportunist.'

Reacting to a call by Asiedu Nketia to have presiding officers who failed to sign pink sheets prosecuted, Sir John said; "after the NDC has benefitted from the chaos which was created by presiding officers who refused to sign pink sheets, Asiedu Nketia wants to act as an angel. He behaves like a lizard with sinister motives and must be told it is a needless call."

I'm humbled

One of the sub-plots from the 2012 election petition hearing was the appearance of Sir John before the panel of judges.

Sir John was summoned after he criticized the court for the contempt charge it made against Sammy Awuku and the party.

Hands at the back, looking all serious with sweat dripping down his face, Sir John responded to a question on his feeling with "My Lord I'm really humbled by this baptism of fire."
The courtroom erupted with fire and Sire John was pardoned.

Ignorant Asiedu Nketia must go to law school

In June 2019, Sir John advised his good friend Asiedu Nketia to go to law school in order for him to appreciate court procedures and rulings.

The lawyer said that Asiedu Nketia was suffering from 'opposing and ignorant' and going to law school is a step in curing the 'ailment'.

"For my friend Asiedu Nketia, I am sure he does not understand the law because you cannot order people around to go back for their positions just because there is a court ruling, that is why I am asking him to spend his opposition years in the law school, at least it will afford him the opportunity to appreciate basic court rulings