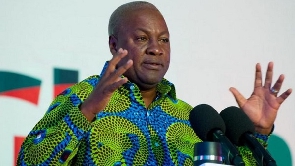 The former President of Ghana, John Mahama has called for the immediate removal of taxes on medical supplies needed for dialysis in the country.
Demands for the government to intervene in the treatment of renal diseases have heightened following a later aborted decision by Korle Bu to increase the cost of dialysis by 100%.

According to the NDC 2024 flagbearer, the removal of taxes on supplies needed for dialysis has become a public health emergency needed to drive down the cost of the treatment.

Speaking at the 1st Ghana Ageing Conference organized by the Los Abuelos Foundation, Mr. Mahama assured his next administration will establish a fund to cater to capital-intensive diseases such as diabetes and kidney diseases among others.

The former president further promised the aged a number of initiatives aimed at making their lives comfortable including making July 1 which is used to celebrate the aged a public holiday again.
The founder of the Weija Leprosarium, Father Campbell charged the government to improve the living conditions of the aged by providing them with free public transportation and increasing leap allowances to 200 Cedis.

The National Secretary for Ghana Government Pensioners Association, Joe Quist in an interview with Starr News lamented over the poor treatment senior citizens are being subjected to in the country.

According to him, some pensioners take home as little as 40 Cedis as a monthly allowance.

He directly asked President Akufo-Addo to reinstate the July 1 public holiday.