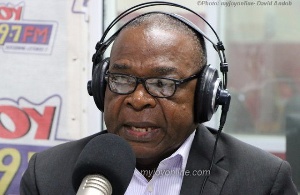 Former Chief of Staff of the republic of Ghana during the era of former President John Rawlings, Lawyer Nana Ato Dadzie has said the renaming of the Flagstaff House by his Excellency President Akufo-Addo is "surprising" and "a step backwards".
The man who rarely speaks on contemporary political issues was captured by MYNEWSGH.com in a phone interview on UPFRONT with Raymond Acquah on JoyNews saying he was surprised about the development.

He said the whole area around the Jubilee House including the 37 Military hospital is considered a "Presidential operation area" and there was the need to keep history.

"What surprises me is to say Flagstaff House is now a part of Jubilee House. It should be the other way round. Jubilee house is the addition", the former Chief of Staff said.

In the interview monitored by MYNEWSGH.com, he said taking the White House for example, every president adds something to the White House, not renovate and rename it, or add or an extension and change the name. He said some add a library, others a pool or a garden, but in Ghana we are obliterating our history.

"The problem I have is that we have other heritage sites like Castle Osu, Peduase Lodge and no one takes care of them.. Castle is ruining soon. We must create a law that protects those edifices", he said.

In a related development, the opposition NDC described the announcement of the renaming as a diversionary tactics and needless, promising to reverse the name to Flagstaff House should they won the next election. Former Communication Minister and his deputy Omane Boamah and Felix Kwakye have also taken to social media to fleece government for embarking on a renaming spree.


Also, a political historian, Prof. Nana Asilfie Konduah has described as totally unnecessary the change of name of the seat of the presidency from "Flagstaff House" back to "Jubilee House".

According to him, there are more pressing things the government should be doing than changing the name of the seat of the presidency.

"It is one of the most unnecessary things in our country especially at this moment in our country and all the things that are going on", he told TV3.