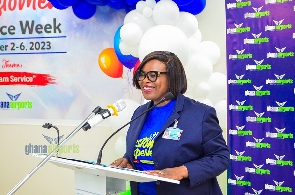 Managing Director of Ghana Airports Company Limited (GACL), Pamela Djamson-Tettey has urged staff and stakeholders in Ghana's aviation sector to renew their commitment to 'Team Service' in order to place Kotoka International Airport (KIA) on the global map.
According to her, this is vital towards placing the country on an enviable pedestal in the global aviation industry while encouraging staff and stakeholders to strive for more excellence.

Speaking at a brief ceremony to launch the 2023 Customer Service Week being celebrated globally from October 2 – 6, 2023 under the theme; "Team Service", the GACL MD indicated that the celebration offered Management of GACL the opportunity to declare its commitment to dedicated staff behind the wheels of service.

She also expressed appreciation to stakeholders and passengers for their immense contribution to Service delivery and patronage of the airports' service.

"The recent Level 1 Accreditation ACI Airport Customer Experience attained by Kotoka International Airport is a testament of the hard work and dedication of the entire Airport Community which also reflected the unwavering commitment to provide exceptional services to passengers, partners and stakeholders," she noted.

Madam Djamson-Tettey recounted further strides made in Airport Service Delivery, citing the Airport Service Quality (ASQ) awards for which Kotoka international Airport had been a recipient on three (3) consecutive occasions; Best Airport by Region and size 2 – 5 million passengers for 2019, 2020 & 2021.

She stressed that the successes chalked had put Kotoka International Airport and Ghana for that matter on an enviable pedestal in the global aviation industry.
Customer Service Manager at the GACL, Eric Prempeh in his remarks recounted that over the years, the company's journey had been built on the desire to deliver an exceptional customer experience.

He however called for more collaboration between stakeholders and departments to repeatedly offer customers a world-class service experience.

Meanwhile, the highlight of the launch of the Customer Service Week was the signing of the Service Pledge by Management, Staff and Stakeholders present at the event. The Service Pledge is a commitment by all to work together as a team to deliver outstanding customer experience to passengers and stakeholders.

The Customer Service Week is expected to be observed at all GACL operated airports in the country. It will feature activities such as the Customer Service Awareness Forum, Airport Service Quiz, a photo booth session with passengers, and visits to stakeholders among others.

MA/NOQ

Watch the latest edition of BizTech below:


Ghana's leading digital news platform, GhanaWeb, in conjunction with the Korle-Bu Teaching Hospital, is embarking on an aggressive campaign which is geared towards ensuring that parliament passes comprehensive legislation to guide organ harvesting, organ donation, and organ transplantation in the country.

Watch the latest edition of BizHeadlines below



Click here to start the nomination process for the 2023 GhanaWeb Excellence Awards