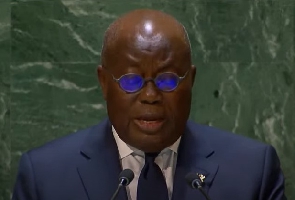 President Nana Addo Dankwa Akufo-Addo has made a bold statement at the 78th General Assembly of the United Nations, calling for reparations to be paid to Africa for the Slave Trade.
Describing the Slave Trade as a time of 'horrors,' the president said that while the present generations of the nations who perpetrated these evils are no longer around, it cannot be overlooked.

This, he added, is because the current generations are beneficiaries of the evils their forebears perpetrated, taking advantage of productive Africans during the Slave Trade.

He, therefore, called for reparations to be paid to Africa although, he stressed, no amount would be able to make up for those many years of enslavement on the continent.

"Maybe we should also admit that it cannot be easy to build confident and prosperous societies from nations that, for centuries, have their natural resources looted and their peoples traded as commodities. For centuries, the world has been unwilling and unable to confront the realities of the consequences of the Slave Trade.

"Regrettably, this is changing, and it's time to bring the subject of reparations firmly to the fore. Granted the current generations are not the ones that engaged in the Slave Trade, but that grand inhuman enterprise was state-sponsored and deliberate and its benefits are clearly interwoven with the present economic architecture of the nations that designed and executed it.

"Reparations must be paid for the Slave Trade. No amount of money will ever make up for the horrors, but it will make the point that evil was perpetrated, that millions of productive Africans were snatched from the embrace of our continent and put to work in the Americas and the Caribbeans without compensation for their labour," he said.
President Akufo-Addo also spoke about illicit financial outflows from Africa that he said must be returned to the continent.

Click here to start the nomination process for the 2023 GhanaWeb Excellence Awards

Ghana's leading digital news platform, GhanaWeb, in conjunction with the Korle-Bu Teaching Hospital, is embarking on an aggressive campaign which is geared towards ensuring that parliament passes comprehensive legislation to guide organ harvesting, organ donation, and organ transplantation in the country.

You can also watch this episode of People & Places on GhanaWeb TV:



AE/AW