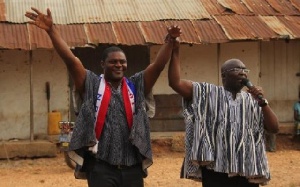 Friends of Planting for Food and Jobs, a pressure group, has called on President Nana Addo Dankwa Akufo-Addo to appoint William Hor, the 2016 NPP parliamentary candidate for Afram-Plains South, as the Deputy Minister of Agriculture.
According to the group, Mr Hor has the right knowledge to help advance the course of the government as far as the agriculture sector is concerned.

Mr William Quiattoo resigned after describing northerners as 'liars' and 'difficult' people to deal with.
Following his resignation, the group, in a statement on Thursday, said: "Hon William Hor is a card-bearing member of the New Patriotic Party (NPP) and the 2016 parliamentary candidate for Afram-Plains South. Hon William Hor has very good track records in agriculture because he is already into farming and he has all qualification in the agriculture sector.

"In no doubt, we believe that the president will appoint Hon. William Hor as the Deputy Agric Minister which will be the best for the government. We are using this opportunity to plead to His Excellency Nana Addo, the President of the Republic of Ghana, on behalf of the Afram-Plains South parliamentary candidate, Hon. William Hor."