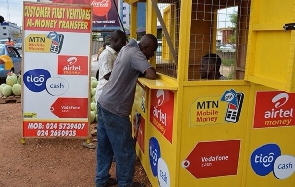 Sun, 17 Sep 2023 Source: GNA
Telco company MTN has declared that the act of split cash transaction is illegal, urging its clients to report any Mobile Money (MoMo) agent who engages in such unlawful practice for action.
The MTN charges for mobile money cash transactions at a fixed rate pegged at GH¢10 cedis on GH¢1000 and above for cash withdrawal at service centres.

However, certain miscreant agents and merchants practice split cash transactions, where every GH¢1000 is charged GH¢10 end up in clients paying higher charges.

As per the company's report, when a client wants to withdraw GH¢3000, they are instructed to divide it into three separate transactions which attract a fee of GH¢10 on each GH¢1000 cashed out, instead of a fee of just GH¢10 on the entire (GH¢3000) withdrawal.

Mr. Mawuena Agogo, retail experience manager for the Eastern, Volta, and Oti regions, said the act was illegal and urged clients to report any such act to any MTN office or dial 100 to lodge a complaint.

He said both agents and merchants were aware that their actions were unlawful, but regrettably, they carried out the illicit act on the company's behalf.
"Because such transactions are personal encounters, the system could not capture them, which is why we are urging clients to report them, so the necessary action is taken," he said.

He indicated that a number of agents who were reported had been blocked and made to refund the additional charges to the owners shortly after such reports were received.

Mr. Agogo was speaking during an MTN engagement with informal sector customers at Akyem Tafo, focusing on fraud prevention and other negative experiences MTN customers encounter.

The meeting was in response to recent grievances regarding exorbitant transaction fees and the widespread practice of splitting cash transactions to maximise transaction fees.

"I had to pay GH¢40.00 charges on GH¢4,000.00 withdrawal because I was asked by the agent to split and withdraw GH¢1000 at every transaction," a trader said.
Other complaints and concerns raised at the forum included bad network and Internet connections and fraudulent activities on the Momo platforms, among others.

Mrs. Georgina Asare-Fiagbenu, MTN's Senior Corporate Communications Manager, called on customers to be vigilant and not respond to any offers that they had not applied or initiated a process for.

She also refuted speculations that some MTN agents were involved in the fraud, adding that "we have more customers than all others, so our customers are easily targeted."

Customers were advised to be vigilant because fraudsters only thrived when customers gave in to their demands and instructions.

The forum covered education on mobile money, Ayo insurance, network challenges, and other MTN services to enhance customers' understanding.
Source: GNA