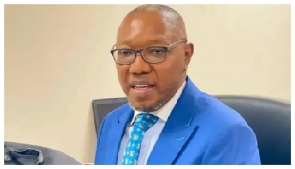 Dr. Clement Apaak, a member of Parliament for Builsa South, has defended former President John Dramani's comments about President Akufo-Addo's cronies in the judiciary.
The MP asserts that the former president and presidential candidate of the National Democratic Congress (NDC) stated the truth.

NDC presidential candidate John Dramani Mahama accused the ruling New Patriotic Party (NPP) of deliberately appointing cronies to the judiciary, claiming that President Nana Addo Dankwa Akufo-Addo has deliberately appointed the most judges to ensure his bidding is carried out when he is out of office.

The president acted in this way to avoid accountability for the corruption that has plagued his administration, Mr. Mahama said.

Addressing the closing ceremony of the 3rd Annual Lawyers Conference of the National Democratic Congress (NDC) on Saturday, September 2, Mr. Mahama said "Currently, the judiciary is packed with NPP-inclined judges because this government has carried out a deliberate policy of putting their people onto the bench."

"He has appointed the biggest number of judges onto the bench, it is more than 80 towards 100 and counting. You can see what the current president has done. He has packed the court, and we know they have packed the court because they want to avoid accountability after they have left office."

To address this challenge, he has asked members to take up careers on the bench to "balance out" the judiciary.
"So, I encourage some of you to look at careers on the bench so that we can balance out what the current situation is. We must be prepared as NDC legal persons to also go onto the bench so that we can balance out the judiciary," he urged.

Dr. Apaak defended the former president's comments, stating that Ghana's democracy is on the verge of collapse due to the mismanagement and incompetence of the current administration.

He acknowledged the accuracy of the comments.

He criticized those who disagree with his comments as hypocrites, stating that such individuals will continue to face challenges under this administration.

He affirmed that the President has appointed card-bearing members to the bench, which poses a threat to our democracy.

"Nothing wrong with the comments made by JM regarding the current state of our judiciary. Is it not a fact that NADAA has packed the bench; appointed card carrying NPP members as judges? Until the hypocrisy stops our democracy will continue to be on the brink of collapse."