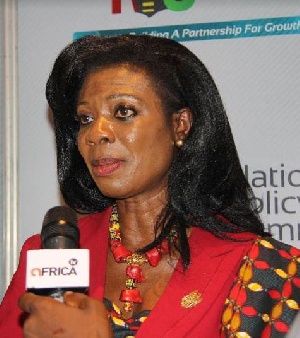 Mrs Kate Quartey-Papafio, the Chief Executive Officer of Reroy Cables, was one of the country's renowned women entrepreneurs that represented this year's African Women in Manufacturing conference christened " Lionesses of Africa Annual; Conference" in Johannesburg, South Africa.
She was among the five African women entrepreneurs nominated as panelists for the first session drawn from Ghana, Nigeria, South Africa Namibia and Kenya to discuss issues on empowering women and addressing the under-representation of women in manufacturing on the continent.

The conference brought together 30 speakers from 12 countries.

The panelists include, Mrs Kate Quartey-Papafio, Founder, Reroy Cables, Ghana, Ms Kofo Akinkugbe, Founder, Secure ID, Nigeria, Ms Mayleen Kyster, Founder, Africa Steel Holdings, South Africa, Ms Ally Angula, Co-founder, Leap Namibia Group, Namibia, Ms Flora Mutahi, Founder, Melvin Marsh International and Chairperson, Kenya Association of Manufacturers.

The Lionesses of Africa aims to recognize all those women entrepreneurs in Africa who are an inspiration to us all, those who have made it to the top of their fields and who are shaking up their industries and business sectors.

In an interview with the Ghana News Agency in Accra, Mrs Quartey-Papafio said the Conference featured five special sessions, each led by women who were pioneers in their business sectors.
The Ghanaian Entrepreneur said other topics discussed at the conference include: looking at opportunities for future growth, the path forward for women in manufacturing, how can the women pioneers effectively recruit, retain and advance talented women in manufacturing, how can we increase the visibility of women business leaders who serve role models and how can we create more mentorship programs for women?.

She posited that the manufacturing sector is missing a critical talent pool, which could aid in closing the skills gap and that women are manufacturing's largest pool of untapped talent in Africa.

According to statistics, the average UK manufacturing company is currently made up of 85 per cent of men and 15 per cent women. In the US women make up 47 percent of the labor force, but only 27 percent of the manufacturing workforce.

However, Africa has no alternative to developing a strong value-added manufacturing base.

According to the World Bank, in 2014, 30 per cent of China's Gross Domestic Product came from manufacturing and by comparison, Nigeria's share stood at just 9 per cent, Kenya 12 per cent, and Zambia 8 per cent.