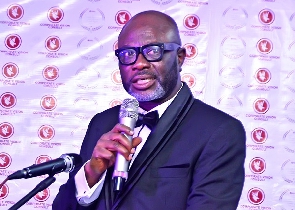 Members of the Ghana Union of Traders Association (GUTA) have been urged by their leadership to resist any form of harassment from officials of the Ghana Revenue Authority.
President of GUTA, Dr Joseph Obeng, clarified that his members were not going to refrain from paying their taxes, but any attempt to intimidate traders would be resisted.

Making this known at a press conference held in Accra on Wednesday, September 20, 2023, he said, "I am not saying that they should resist paying taxes, I am saying that they should resist impunity, harassment, and intimidation."

Leave us in peace

He further entreated the Ghana Revenue Authority to allow traders to freely go about their businesses after filing and paying their taxes.

"Our goods are in detention with you, sometimes two weeks, 1 month...do whatever you want to do and let us pay whatever we have to pay. After clearance, leave us in peace," the GUTA President said.
Power of the people not vested in any politician, GRA

According to him, the power of the people does not lie in the authority of the politicians but in the over 3 million trading communities in Ghana.

Dr Obeng noted that the angry trading communities were poised to talk about issues affecting their businesses in recent times.

He said, "The authority of the people, the power of the people is not vested in the politician, it's not vested in the GRA, it is vested in the boundary of Ghana and in this case, I am talking about 3 million trading community who will just rise up and talk to issues that is destroying their businesses."

His comment comes after GUTA members said goods with duties paid and cleared at the port are many a times arrested by these taskforces of customs leading to extortions, delays, and re-examinations which result in heavy penalties slapped on owners of the goods.
SA/MA

Ghana's leading digital news platform, GhanaWeb, in conjunction with the Korle-Bu Teaching Hospital, is embarking on an aggressive campaign which is geared towards ensuring that parliament passes comprehensive legislation to guide organ harvesting, organ donation, and organ transplantation in the country.

Watch the latest edition of BizTech below:



Click here to start the nomination process for the 2023 GhanaWeb Excellence Awards