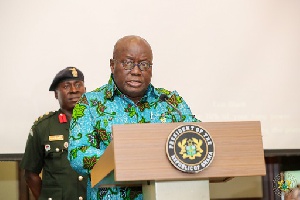 President Nana Addo Dankwa Akufo-Addo has made a strong appeal to the Chiefs and People of the Kroboland to as a matter of urgency take steps to resolve all Chieftaincy disputes amongst them.
The President observed that the several long-standing chieftaincy disputes is hindering development efforts in Odumase-Krobo and the Kroboland as a whole.

Delivering his speech as the special guest of honour at the Ngmayem Festival of the people of Odumase-Krobo, which is under the theme: "the role of Chiefs in Advocating Peaceful Co-existence in Ghana", the President called on the Chiefs to put in place measures that will bring disputing parties to the negotiating table in order to find a lasting solution to all pending disagreements.
In his address, His Royal Majesty Nene Sakite II, Konor of the Manya, said the role of Chiefs in Advocating peaceful coexistence in Ghana has assumed an even more important dimension and his efforts to foster peace will begin from his own backyard, the Kroboland.