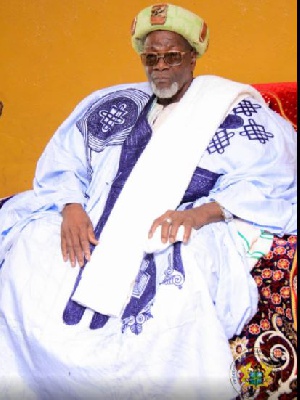 The people of Dagbon in the Northern Region have been urged to give the new overlord of the area the necessary recognition and respect to guarantee a lasting peace which has eluded them due to the over a decade chieftaincy conflict.
A new chapter of peace was opened Friday in the history of the people in the area following the enskinment of the Chief of Savelugu, Yoo Naa Abubakar, to succeed the late Ya-Naa Yakubu Andani II who was killed in 2002.

Hundreds of lives have for 16 years been lost with many maimed in the intermittent conflict between the Abudus and the Andanis, all of who have been laying claim to the skin of Dagbon.

A government intervention led to the setting up of the Committee for Eminent Chiefs led by the Asantehene Otumfuor Osei Tutu II which managed to broker a peace pact between the two royal families. This paved the way for the final funeral rites of the two late overlords of the area.

The last of the two royal funeral rites was completed Thursday; kick starting the processes for a new Ya-Naa to be enskined.

Custodians of the Dagbon tradition led by the Gushei Naa and Kugnaa after the necessary traditions and rites nominated Yoo Naa Abubakar as the successor to the late Ya-Naa Yakubu Andani II.
Traditional rites to crown his enskinment Friday night was nearly marred by sporadic shooting near the Gbewaa Palace where the event was taking place but the swift intervention of the security on the ground quell the rebellion which ended with one person dead.

Chart a new course for lasting peace

A statement from the Eminent Chiefs Saturday congratulated the new Ya-Naa and expressed gratitude to the Abudu and the Andani royal families "for their understanding and cooperation" in the performance of the royal funerals.

The Eminent Chiefs however appealed to all Dagombas, especially the Abudus and the Andanis "to accord the recognition and obeisance to the new Ya-Naa as we chart a new course for lasting peace in Dagbon".

They said the current development presents a good chance to restore Dagbon to normalcy by using "the time tested Dagbon customs and traditions where only those who are to be enskined as Ya-Naa's shall come from the gate skin unless otherwise".
Outstanding issues

The Committee assured the two families that once all the necessary enskinment processes are done, it will engage the new Ya-Naa to resolve all outstanding issues.

"The committee assures both families that upon completion of all customs and traditions in the enskinment of the new Ya-Naa, the Committee will engage the Ya Naa in resolving all outstanding issues pertaining"

These issues, the according to the Committee, are the performance of funeral rites for the princes and elders of Dagbon and enskinment of both regents of Naa Mahamadu Adbulai IV and Naa Yakubu Andani II and other regents.