General News Mon, 4 Jun 2018
Click to read all about coronavirus →
Lawyers of Mr Peter Mac Manu, AB Lexmall Associates, have written to the Chairman of the Ghana Ports and Harbours Authority (GPHA) Senior Staff Union to retract and apologise for corruption allegations he leveled against him as Chairman of the GPHA Board.
The union had alleged that Mr Mac Manu had given contracts to his wife and children, thus, putting him in a conflict of interest situation.

Already Mr Mac Manu had denied the allegations via a press conference, but he, on 30 May 2018, had his lawyers write to the union leader to ensure the allegations are withdrawn in 10 days or face him in court.

"We hold our client's firm instructions to demand immediate retraction as well as an unqualified apology for the false allegations made against him," the letter to Mr. John Aseeph and the various unions of the GPHA said.

"You, as well as the Unions involved, are by this letter put on notice that should you fail to meet our client's demands herein within 10 days from the date of this letter, we have unequivocal instructions to take all necessary legal steps including but not limited to commencing legal action against you and the unions involved to salvage our clients reputation".

Describing the allegations as "highly defamatory and toxic", Mr Mac Manu's lawyers said: "Your malevolent and unwarranted allegations have, therefore, caused him a great deal of reputational damage".
Find below the letter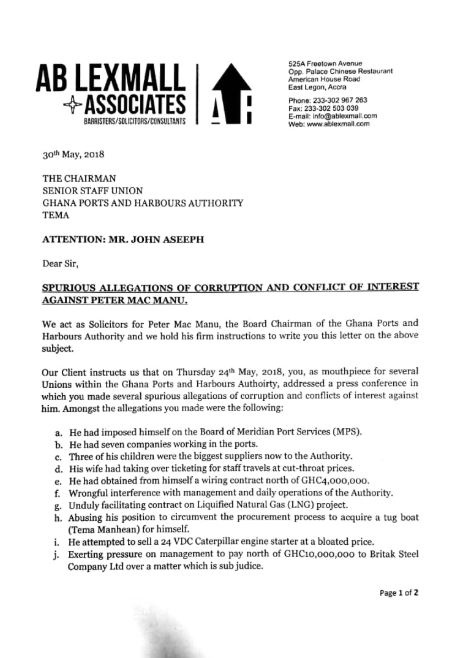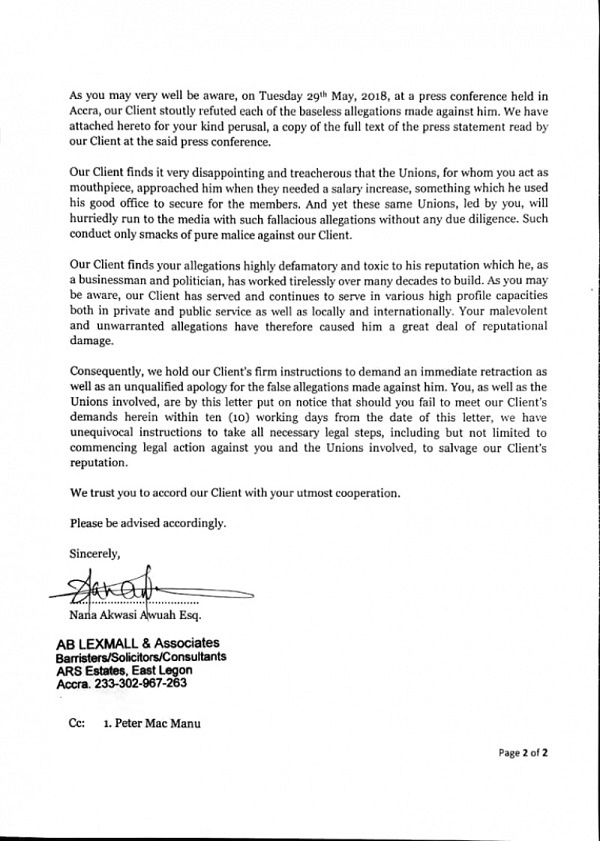 Send your news stories to and via WhatsApp on +233 55 2699 625.