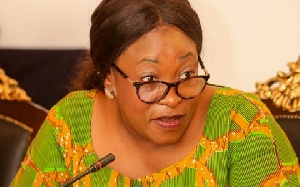 Members of the erstwhile Mahama government who refuse to handover diplomatic passports will be stopped at the country's airports during trips as a last resort, the Minister of Foreign Affairs and Regional Integration, Shirley Ayorkor Botchway, has hinted.
The minister indicated that the grace period for the former officials and appointees to hand over such passports has elapsed, yet some have refused to tender diplomatic passports issued to them while in office.

According to her, government will have no option than to halt the trips of culpable officials.

"Bring them in, the deadline is past and it might not be very good for such a person who should have handed in the passport who decides not to but to travel with it to be stopped at the airport. … It will happen, that is the next step and I don't want any colleague, just because they are members of the past government, to go through such an ordeal," she noted on Wednesday, May 24.
She revealed that most of the past officials have returned the passports "but a few who have not we have signalled them that very soon they will be put on a stop list if they do not return it".

She said this while interacting with Joy FM's Evans Mensah in the UK.

This comes on the heels of some current and past Members of Parliament being cited for misuse of the diplomatic passports, an issue being currently investigated by parliament.