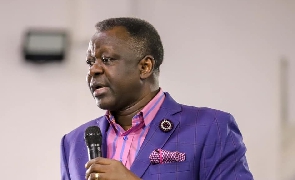 The Member of Parliament (MP) for Ningo Prampram, Sam Nartey George, has called on Rev Joseph Eastwood Anaba, the founder and president of the Eastwood Anaba Ministries, to resign from the Board of Trustees of the National Cathedral of Ghana.
According to him, Rev Anaba has done so much for the church in Ghana, especially in the northern parts of the country and must not continue to be part of the National Cathedral project to save his hard-earned reputation.

He added that Rev Anaba and the other clergymen on the board should not only step down but must call for an investigation into the corruption allegations that have surrounded the project.

"My very good father, Rev Joseph Eastwood Anaba, should not allow his reputation (to be tarnished). What he has done for the north and Bolgatanga should not be eroded by individuals who have their own parochial interests and are hiding behind his good name to have all kinds of young people cast aspersions as to who he is and what he stands for.

"And these are the things that are paining and breaking the heart of myself and my brother Okudzeto. They must dissociate themselves from this. And not just dissociate themselves, they must go ahead to call for proper investigation because their reputations are at stake. There must be a proper forensic audit of individuals who have been involved," he said.

The MP made these remarks while reacting to the latest corruption exposé on the National Cathedral by MP for North Tongu, Samuel Okudzeto Ablakwa, portions of which suggested impropriety on the part of the secretary to the Board of Trustees of the National Cathedral of Ghana, Rev. Victor Kusi Boateng.
On January 16, 2023, the MP made some allegations against Rev. Kusi Boateng, who is the secretary to the Board of Trustees of the National Cathedral of Ghana.

In an earlier revelation about the National Cathedral, Okudzeto Ablakwa said a whopping GH¢2.6 million was dished out to a company named JNS Talent Centre Limited.

Further investigations into the alleged payment led to the discovery of one Kwabena Adu Gyamfi as a director of JNS Talent Centre.

Having confirmed the identities of two out of three directors of the centre, Ablakwa dug deeper in a bid to discover the identity of the third director, Kwabena Adu Gyamfi.

According to his findings, citing a number of statutory documents, Kwabena Adu Gyamfi was the same as Reverend Kusi Boateng, who has allegedly been operating under the pseudonym Kwabena Adu Gyamfi.
But Kusi Boateng, in a statement sighted by GhanaWeb, said that the allegations made against him by Ablakwa are mere fabrications.

He said that the accusations the MP made against him are for political purposes, adding that he has not engaged in any criminal activity in his dealings with the National Cathedral project.

Rev Kusi Boateng also said that he is waiting on the Commission on Human Rights and Administrative Justice (CHRAJ) which has been petitioned by Ablakwa to investigate him.

He added that he will explore the legal options available to him against the MP for deliberately defaming him.

Watch the interview below:




IB/WA