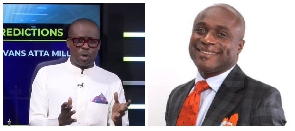 Host of Good Evening Ghana, Paul Adom Otchere, has asserted that Reverend Kusi Boateng, a member of the Board of Trustees of the National Cathedral has predicted all presidential election results correctly since 1992.
Marking his submission on his Good Evening Ghana show on January 20, 2023, the Board Chair of the Ghana Airport Company Limited revealed that, Rev Kusi Boateng foretold President Nana Addo Dankwa Akufo-Addo about his defeats in the general elections of 2008 and 2012 as well as his eventual victories in the 2016 and 2021 elections.

"Now here is a man Rev Kusi Boateng, I will tell you the story. Who has predicted correctly as they tell us every election since 1992? In 1992 he predicted that JJ Rawlings will win the election and he won …in 2000 he predicted that the NPP will come to power through JA Kuffour and that happened, and in 2004 it happened. 2008 is the interesting one.

"So, in 2008 Rev Kusi Boateng. You can understand his history because of his father. Eeerm 'the buckler' I would like to call it with the soldiers, he doesn't really like political parties coming out of the PNDC. So, NDC is not something that he is thinking about because he will say or as some people say 'they killed my father'.

"But in 2008 he is reported to have met President Akufo-Addo in Kumasi and had told him, sir, this election you are going to lose narrowly but I can see God telling me that you will be president of Ghana.
"But in this election, you're not going to be successful, you're going to lose narrowly… So, as soon as that happened, the people who heard him said wow this guy said it, this prophet said it.

So, in 2012 let's go back to him again."

He added "In 2012 Rev Kusi Boateng then engaged with Akufo-Addo's people again, and he told them that I'm very sorry to say, this time again you will not win but I see you going to court, and you will win the court case, but it doesn't make you the president.

"…then in 2016 Rev Kusi Boateng predicted a landslide victory for Akufo-Addo and it happened. So, from that time, he became friends with the people.
Paul Adom Otchere furthered that Rev Kusi Boateng has also foretold that the NPP would win the general elections of 2024, but the election will be marred by violence.

Meanwhile, Samuel Okudzeto Ablakwa, a Member of Parliament for North Tongu who has been a staunch advocate against the construction of the National Cathedral, on grounds that the timing, location and process are wrong has made some allegations against Reverend Kusi Boateng.

In his latest set of allegations, Okudzeto Ablakwa sought to establish that Reverend Kusi Boateng was actively operating with two different identities.

"As I revealed on Metro TV's Good Morning Ghana programme a while ago; when Paul Adom Otchere claimed on his show last night that Rev. Victor Kusi Boateng AKA Kwabena Adu Gyamfi was advised to use his mother's name following the demise of his father; what Paul didn't want Ghanaians to discover is the fact that in addition to the double dates of birth and double TINs; Rev. Kusi Boateng also mystifyingly claims to have two biological mothers.
"On the 13th of August, 2013 when he filled his Taxpayer Registration Form at the GRA under the name Victor Kusi Boateng with a date of birth of September 7, 1971; he declared that his mother's maiden last name is Ataah, and her first name is Agnes.

"He was subsequently given a Taxpayer Identification Number for his Victor Kusi Boateng name as P0002502682.

"Curiously, on the 24th of March, 2016 he returned to the GRA, this time with the name Kwabena Adu Gyamfi and date of birth of December 30, 1969. He strangely declared a different biological mother with a maiden last name of Gyamfua and a first name of Yaa.

"This is how he secured another TIN — P000627241X.
"Interestingly, he declared on the forms that he is not a registered taxpayer even though he was and already had a TIN.

"Therefore, from unimpeachable official records, Rev. Victor Kusi Boateng miraculously has two biological mothers — Yaa Gyamfua and Agnes Ataah. (See copies attached)", he posted on social media.



AM/KPE