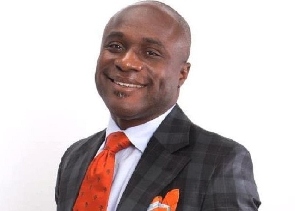 The secretary to the Board of Trustees for the National Cathedral Reverend Kusi Boateng is number one on Twitter following some shocking revelations.
Samuel Okudzeto Ablakwa, the Member of Parliament for North Tongu, revealed that a whopping GH¢2.6 million was dished out to a company named JNS Talent Centre Limited.

Ablakwa's investigations into the alleged payment led to the discovery of one Kwabena Adu Gyamfi as a director of JNS Talent Centre, which he shared on Facebook on January 16, 2022.

Having confirmed the identities of two out of the three directors of the centre, Ablakwa went on an expedition to discover the identity of the third director, Kwabena Adu Gyamfi.

According to his findings, citing some statutory documents, Kwabena Adu Gyamfi is the same as Reverend Kusi Boateng, who has allegedly been operating under the pseudonym Kwabena Adu Gyamfi.

Ablakwa claimed that Reverend Kusi Boateng holds multiple passports and identification cards, some bearing the name Kwabena Adu Gyamfi.
Following this development, Kusi Boateng has got a lot of Ghanaians talking, making him number one on Twitter.

Many have shared videos of him preaching in church, while others have shared their opinions on the matter.

"Meet Rev. Victor Kusi Boateng, aka Kwabena Adu Gyamfi. He's a confidant of Akufo Addo. He Holds multiple passports, including a diplomatic passport. Has two different TIN numbers. Until the recent Lord's work of Hon.@S_OkudzetoAblak, he was a respected "man of God". Embarrassing!" Suadique Musah said.

Read the tweets below:


Look at this. This double guy advise Akufo Addo. No wonder Adu Gyamfi/Kusi Boateng pic.twitter.com/bD961ROcDg

— KOJO DYNAMIC ???? (@AnnanPerry) January 17, 2023
Dag Heward-Mills deserves some applause ???? for his stance on the NATIONAL CATHEDRAL saga! Decent Men Of God we shall honor ????????! Kusi Boateng can't compare! He has no integrity! pic.twitter.com/6B4huRsHOk

— Mens D MC ???????? (@Mc_Mens1) January 17, 2023
Rev. Victor Kusi Boateng AKA Kwabena Adu Gyamfi's has done what Jesus couldn't do, he was born on 1969 and rebirth at 1971. pic.twitter.com/5r1oaNZXyl

— Amo (@amohuseinn) January 17, 2023
How can this man of God have 2 identities, with 3 different biometric Ghanaian Passport;

Rev. Victor Kusi Boateng Kwabena Adu Gyamfi

Note this is a biometric passport now Imagine how many people who can have different Voters ID for the purpose of voting

The system is rigged pic.twitter.com/d6pbcIwvwo

— Uncle Paa Kwesi (@papakwesi_jr) January 16, 2023
JFK, who describes himself as a "son" of Rev. Kusi Boateng wished him "Happy Birthday" on 07 July 2022. Unless he's not the holder of this diplomatic passport, how is his date of birth 30 July?

We need @GhanaMFA to clarify this especially the alleged duplicity of passports. https://t.co/MS034w56Yb pic.twitter.com/QiGyjgdQNl

— Richmond Rockson (@MrRockson) January 16, 2023
Now confirmed Rev Victor Kusi Boateng is same as Kwabena Adu Gyamfi but questions over why he has 2 different dates of birth on two different ID cards "produced" by Samuel Okudzeto Ablakwa

Probably a mishap that could have been averted like the Daniel Domelevo one pic.twitter.com/J9Q3XJ2By2

— Austine Woode (@obiMpenaAustine) January 16, 2023
This man is popularly known as REV VICTOR KUSI BOATENG. He is the president's prophet. He is in charge of the building of the national cathedral. pic.twitter.com/LlNIGeHOAe

— Berry ☯︎ (@fanti_boy) January 16, 2023
Meet Rev. Victor Kusi Boateng AKA Kwabena Adu Gyamfi. He's a confidant of Akufo Addo. He Holds multiple passports including a diplomatic passport. Has two different TIN numbers. Until the recent lord's work of Hon. @S_OkudzetoAblak, he was a respected "man of God". Embarrassing! pic.twitter.com/F2puV0i3fH

— Suadique Musah???? (@Suadiquemusa) January 16, 2023
Kusi Boateng ebe like this time, God do the opposite for you oo???????????????? pic.twitter.com/TDbeTQh4He

— Mens D MC ???????? (@Mc_Mens1) January 16, 2023
Owusu bempah should start acting with Ras Nene cuz this concert is super????????????????????????

Kusi boateng Vodafone Ghana black stars chris Houghton kwabena bibiani sheldon akuffo addo London bridge shatta kamaldeen sulemana pic.twitter.com/cqI6Eb1cU5

— TH£ $W∆G KI₦G CØLË (@iamdesmondss) January 17, 2023