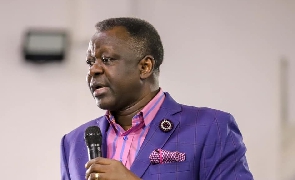 Reverend Joseph Eastwood Anaba, Founder and President of the Eastwood Anaba Ministries has been eulogized for his integrity and adherence to laws of the state.
Though the revered preacher has over the years been recognized and appreciated for his positive impact on the development of the Upper East Region and social impact on the lives of thousands of people in the region, some more good discoveries are emerging about him.

Rev. Eastwood Anaba is said to be conscious of his duties to the state and in a fashion many have deemed unusual, declares gifts he receives to and pays gift tax to the Ghana Revenue Authority.

This was disclosed by Development Economist and Senior Lecturer at the University for Development Studies Dr. Michael Ayamga Adongo.

"I know a man who walks to the GRA, declares the gifts he has received and pays the taxes required. I mean he pays gift tax. That is the man Rev. Eastwood Anaba," Dr Adongo wrote in a social media post.
Rev. Joseph Eastwood Anaba was born on the 10 May 1961 to a Ghanaian mother and Ghanaian father in Bolgatanga, Ghana.

He had his secondary education at Presbyterian Boys' Senior High School before proceeding to Kwame Nkrumah University of Science and Technology Ghana, where he was trained as a pharmacist. Pastor Eastwood left the pharmacy profession to go into full time ministry of the Lord in 1988.

He met his wife Rosemond who was at the time a biological science student at Kwame Nkrumah University of Science and Technology, Ghana. After a period of courtship, they married in 1988 and have been married for more than 26 years with four children.