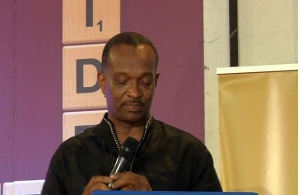 The Chairman of the Volta River Authority Board Mr. Kweku Andoh Awotwi is urging government to go ahead with its decision to review the AMERI Power deal despite resistance from the Minority.
He said the AMERI power plant is too expensive for the country hence should be reviewed to cut down the cost.

"The cost of AMERI is too high. It came in at a cost of over $150 million more than the store price so I feel the review must go on," he suggested.

Mr. Kweku Awotwi observed that Ghanaians are paying high electricity tariff due to the high cost of power plants such as the AMERI.
He disclosed a survey by Ghana Grid Company recently has shown that majority of small businesses in the country have stopped using electricity from the national grid and resorting to other alternative energy due to high cost of electricity.

Speaking in an interview with Oman News after delivering a public lecture organized by Ghana @60 Committee under the theme, "Let there be Light" Mr. Awotwi emphasized the need for government not to interfere in operations of PURC.

According to him, political interference in tariff setting is also to blame for the high tariff being paid by consumers.