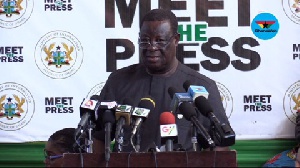 Angry Minister of Roads and Highway, Kwasi Amoako Atta has ordered for the arrest of owners of a confiscated excavator and low bed vehicle which he chanced upon that had been used for illegal mining (galamsey) in his constituency.
He also caused the arrest of two illegal miners and forced them to wash mud on portions of tarred Akrofufu to Twapease road in Atiwa West District in Eastern region.

The illegal miners were carting excavator with low bed truck vehicle from their mining site near the roadside spreading mud on the tarred road and causing gridlock.

The Minister who is also Member of Parliament for the area in the company of some constituency executives of the governing New Patriotic Party (NPP) bumped into the gridlock while returning from a funeral at Twapease over the weekend.

The Minister noticing the mess caused on the road by the illegal miners and destruction to the shoulders of the road, furiously ordered his police guard to arrest the illegal miners which two were arrested but others escaped.

The illegal miners were forced to wash mud on about one kilometer of the road.
"My party executives and I were from a funeral, and we came to meet this low bird trailer with Galamsey excavator. Look at this distance, more than a kilometer of road have been destroyed -so muddy.

"The entire stretch of the tarred road has been muddied. So no car could cross. All the vehicles have parked at both. They have destroyed the shoulders if the road so I stopped and ordered my bodyguard to arrest them".

He continued that the illegal miners arrested have been handed over to the police.

"Their galamsey activities are destroying the road constructed with huge amount of the taxpayer's monies. Look at the destruction".

I have handed them over to the police for the law to take its cause. The police in the own wisdom will carry their own investigation".
Hon. Amoako Atta declared what he calls "negative tolerance" to illegal mining in the area warning that henceforth, illegal miners will be clamped down in the district.

"I am the member of Parliament for this constituency, and I am going to work with my District Chief Executive who is head if DISEC to support the position of Government.

"The President of the Republic Nana Addo Dankwah Akufo Addo has put his presidency on the line to fight Galamsey to protect the environment for posterity. We have to protect our water bodies we to protect our land."