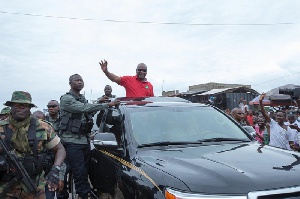 President John Dramani Mahama has urged Ghanaians to grant his government another four-year term to complete his unfinished massive developmental agenda of Ghana.
According to him, since Rome was not built in a day, he needs four more years to bring development to every corner of the country as he's already started.

President Mahama was addressing a mammoth NDC rally at Kotobabi in the Ayawaso Central Constituency in Accra on Wednesday on his 3rd and final day of his Greater Accra tour.

He expressed confidence that Ghanaians having seen the good works of his government will reward the NDC with another term in office.
"In four years, I've done all what is humanly possible, four years is not enough, but in this four years, the good things people are claiming they have not seen my government has done, the Almighty God has seen our excellent performance. As we stand here…just look on your left side, this was how the Kotobabi cluster of schools looked like from the Kwame Nkrumah's regime and just turn right and see how the NDC has transformed the school, I need not talk at all…the building will speak for us."

He continued: "The massive development is going on all across the country, if its not roads, then its hospitals, provision of electricity and water, the building of factories all over. I'm confident that the good people of Ghana will honour us with another term in office due to our good works."