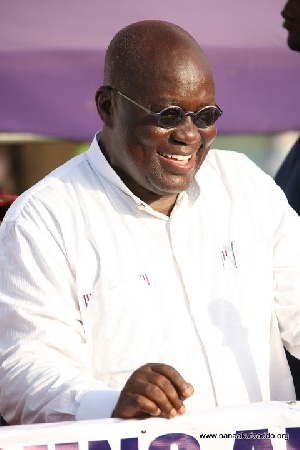 Sat, 24 Dec 2016 Source: GNA
Russia's Ministry of Foreign Affairs has praised Ghanaian authorities for efforts at conducting another successful presidential and parliamentary elections and hailed the electorate for showing maturity at the polls held on 7 December 2016.
In an official statement posted Tuesday, the Ministry noted that "observers from the African Union and the Economic Community of West African States have recognised the election results as credible, as no serious violations that could have affected the expression of the people's will were reported."

It concluded that "Moscow considers the national election in Ghana an important step by Ghana's society on the path toward stable social and political development."

The Electoral Commission has declared Nana Akufo-Addo as elected President whose New Patriotic Party (NPP) earned about 54 percent of votes, while the National Democratic Congress (NDC) got 44 percent. The NPP is a liberal democratic party and is one of the dominant parties in the national politics of the Republic of Ghana.

In the 7 December 2008 presidential election, Akufo-Addo received more votes than John Atta-Mills amassing 4,159,439 votes representing 49.13% of the total votes cast, placing him first, but not enough for the 50 per cent plus one needed for an outright victory.

It was the best-ever performance for a first-time presidential candidate since the beginning of Ghana's 4th republic in 1992. In the run-off elections, however, Mills ultimately received 4,521,032 votes, representing 50.23%, thus beating Nana Akufo-Addo.

Russian authorities have known the NPP for about a decade and have interacted with leading party officials previously. John Kufuor, a leading NPP member and then President of the Republic of Ghana met with President Vladimir Putin at the 33rd Group of Eight (G8) summit held 6-8 June 2007 at Kempinski Grand Hotel in Moscow.
That was followed by an official working visit to Moscow by the then Minister for Foreign Affairs of the Republic of Ghana, Nana Akufo-Addo, on 12 July 2007 on the invitation by Russian Foreign Affairs Minister, Sergey Lavrov.

During their diplomatic discussion, both Ministers reached an understanding to raise trade and economic cooperation between the two countries. They further agreed on developing direct business contacts between Russia and Ghana.

Towards realising this goal, Nana Akufo-Addo and Lavrov agreed to facilitate direct contacts between the Chambers of Commerce and Industry of both countries. Akufo-Addo said that the Ghanaian side was preparing proposals concerning new projects which may become the object of joint development by companies in Ghana.

Currently, the United Russia Party, Federation Council (Upper House) and State Duma (Lower Chamber) told GNA in separate interviews in Moscow that they were ready to establish political and parliamentary relations with the new government and the New Patriotic Party.

Russia and Ghana have accumulated a valuable experience of mutual respect and trust from nearly 60 years of cooperation in their diplomatic relations that have been described as very friendly and close.

The relations here refers to the bilateral relationship between the two countries. Russia has an embassy in Accra and Ghana has an embassy in Moscow. Russia and Ghana will celebrate 60 years of the establishment of diplomatic relations in 2017.
Source: GNA