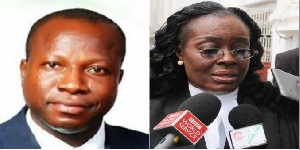 The Supreme Court has ordered parties in the case in which the Attorney General has been sued over government's decision to build a national cathedral, to file a joint statement of issues within seven days.
According to the court constituted by seven-member justices presided over by Justice Julius Ansah, it wants to expedite proceedings in the case.

Meanwhile, when the case came up in court Wednesday, the court reminded the government that the injunction placed on the construction of the controversial cathedral which has received criticisms, was still in force.

The Convention People's Party's James Kwabena Bomfeh in March 2017 dragged the Attorney General to the apex Court over government's decision to build a National Cathedral.

According to Mr. Bomfeh, government must not engage in religious affairs within the country and therefore its assistance to Muslim pilgrims through the Hajj board amongst other things must be declared unconstitutional and illegal.

In his writ, he is seeking "a declaration that the decision of the Government of Ghana to purposely endorse, assist, aid, partly sponsor, and/or support the construction of a National Cathedral near the State House of Ghana, for Christian interdenominational church services amounts to an excessive entanglement of the Republic of Ghana and religion and therefore unconstitutional."
Speaking to 3News correspondent Selorm Amenyah after proceedings, Mr. Bomfeh said government must come clear on whether or not Ghana is a secular state.

"You said you are a secular state, and you are secular in the sense that it is a pluralist religious state so there must be equality of all regions; that is the first leg. I have the right to belief, and that is guaranteed under the constitution. I want the court to make that determination," he told our correspondent

"In so far as you believe in the equality of all regions, you cannot be seen as raising one religion up and above others. So you cannot discriminate against me on the basis of faith because I am a Christian, I must enjoy this, or because I am a Christian, I must suffer that," he reiterated.

In March 2017, President Akufo-Addo inaugurated a board of trustees for the construction of a National Cathedral, which would serve as a place of worship for Ghanaians.

But this was greeted with diverse views from the public, with many critiquing the president for the move, stating that it is unnecessary and discriminatory against other religions.
One of such persons is Kwabena Bomfeh who headed to the Supreme Court to seek redress.

According to him, it is wrong for the state to interfere with religious matters, especially when the resources of the state are involved.

"Do not let the state whose resources are made up of all of us get too much involved in one religious activity at all by way of committing resources. So to that extent I am saying that government supporting setting up of Hajj Board is raising Islam above all religions. It is therefore discriminating against other religions," Mr Bomfeh said.

"In an attempt to build a National Cathedral and call it the Ghana National Church, you are raising one. It is not just an issue of whether or not I want the Cathedral to be built; it is a question of the state versus religion," he explained further.

He added: "The next thing you will hear is that if you do not practice this particular religion or you do not worship this way, I will not allow you employment in a certain sector. This will set a foundation of how much we are a secular state, guaranteeing plural religious worship of freedom," Mr. Bompeh noted.