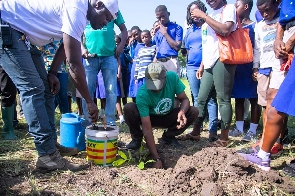 As part of the National Tree Planting exercise by the government, the SDGs Advisory Unit in partnership with the Forestry Commission have planted over 1000 seedlings at the Shia Hills Resource Reserve in the Greater Accra Region on Friday 9th June 2023.
Participants who took part in the exercise included school children in communities around the forest reserve and youth groups.

Speaking to journalists after the exercise, the director of stakeholder and eco-tourism at the Wildlife Division of the Forestry Commission, Dr Richard Gyimah said there was a need to plant trees to augment what the country already has.

"Our reserves have been degraded of trees so we need to plant trees to keep our environment intact. It is also one way of reducing emissions from deforestation," he said.




He added that today's exercise was held at the Shia Hills Resource Reserve because it is a place where its prime objective is for both wildlife management and biodiversity conservation.
Dr Gyimah also stated that the exercise was to protect livelihoods and the animals.




The youth from the Network Development Unit also used the platform to educate the students on climate change.

The Presidential Advisor on SDGs, Dr Eugene Owusu, said his Unit has been partnering for the exercise since 2021.

He said the Advisory Unit was happy to join on the broader agenda on tree planting.
"We will continue to partner with the Forestry Commission and not on an episodic basis but have a structured partnership for sustained support," he added.




Also, watch the latest episode of GhanaWeb Election Desk on GhanaWeb TV below:




Meanwhile, watch the first episode of Everyday People on GhanaWeb TV below: