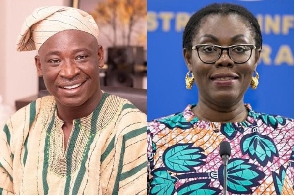 The Member of Parliament for Bunkpurugu, Dr. Abed Bandim, has explained why he describes the SIM re-registration exercise by the government, led by the Minister for Communication and Digitalisation, Ursula Owusu-Ekuful, as a failure.
According to the MP, who is also a member of the Parliamentary Select Committee on Communications, the existing systems that were laid down in the earlier SIM registrations exercise were totally neglected.

Speaking during an interview on Hot News on Pan African Television, and monitored by GhanaWeb, the MP said that there was a conscious plan in place that targeted people in even the farthest places in the country.

"Compared to 2011, when the NDC did its SIM card registration under the minister; Haruna Iddrisu – the former Minority Leader, look, a communications committee was put together in 2018, comprising of staff from the National Communications Authority, the telcos: at that time, there were 6 buoyant telcos (MTN, Tigo, Vodafone, Airtel, Kasapa, and then Glo) and each one of them had a representative on the communications committee.

"We went further and invited consumer protection agencies, including Kofi Kapito, they were all represented on that committee. Then we invited the Information Services Department (ISD), held meetings with them and came out with a roadmap on public education.

"So, at that time, you would have heard a lot of jingles played on radio and on TV, reminding people of their obligation to register their SIM cards. We sent personnel from NCA and all these agencies I talked about, to go to the nooks and crannies of this country, to embark on mass public education. We had the Information Service vans go round the country to make public announcements. Staff visited market centers on market days in the villages to educate them on the need for SIM card registration," he said.
Dr. Abed Bandim added that with the kind of measures they put in place, including getting chiefs to gather their community members to be educated on the exercise, before long, a lot of them knew and understood why they needed to participate in it.

He stressed, however, that in the recent one, the National Communications Authority was mostly silent in its education to the public, only heard and seen when it is implementing punitive measures written by Ursula Owusu-Ekuful.

"We had chiefs organise durbars, inviting their people for us to come and talk to them. The NCA sent personnel to go and talk to churches, even on Sundays. We went to the mosques to talk to them; to educate them. We printed posters and it was scattered all over the country. People knew what they were about. People understood why there was the need to register their SIM cards. In this case, it is not like that.

"The only time you will see the National Communications Authority speak is when they are implementing Ursula Owusu's punitive measures… written and signed by Ursula Owusu, not the National Communications Authority. That is why she has failed. If she was consulting enough, she would have realised that all this work had been done already and she would have just built on that and we would have had by now, a successful SIM card registration exercise. What we have now is a failed exercise and only Ursula Owusu can praise herself," he explained.

The Minister of Communications and Digitization, Ursula Owusu-Ekuful, has stated that the government will not give any of the people whose SIM Cards have been blocked, including the Speaker of Parliament, Alban Bagbin, another opportunity to have them done.


You can also watch the latest episode of People & Places here:





You can also catch up on the third episode of Everyday People below:




AE/WA