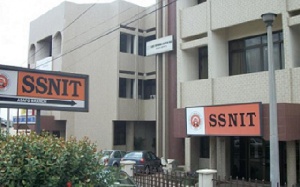 Fraud, mismanagement and doctoring of figures at the Social Security and National Insurance Trust (SSNIT) have gone on for close to a decade, Acting Executive Director for Labour Policy International, Seth Abloso, has alleged.
According to him, the recent cases of mismanagement are not new and authorities have been made aware in past reports and audits conducted as far back as 2008, yet management and regulatory authorities failed to act.

"A team of consultants led by Deloitte and Touche had been appointed by the Finance Minister, then under Honorable Osafo Maafo [in ex-President John Agyekum Kufuors regime], conducted a forensic audit of SSNIT. The report established far-reaching frightening cases of fraud, mismanagement, incompetence, doctoring of figures and all [that] as well as things that have caused financial loss and therefor negatively impacted investment on pensions," he said.

The labour consultant, who was a guest on Class FM's Executive Breakfast Show on Monday, September 4, explained that there were investments made without appraisal of the potential returns and guarantees that management gave to loans without reference to the SSNIT Board.

"If the report had been implemented in the first year of Kufuor's administration, I dare say that Mr Ernest Thompson would not have risen to be Director General, that is how serious the findings against him and others are," he told the host Moro Awudu.

He said there would have been "a tremor in the SSNIT structure and persons would have either fled or be jailed" if there report had been implemented.
He was of the view that the report needs to be located and published publicly even if people involved are dead, "because posthumous awards are given where it is due, we should go for properties from those who rape SSNIT".

He was of the view that because SSNIT gets large amounts of money from contributors every month, they refuse to address poor investments made in the past.

He said: "Regrettably, persons in high places who know about the rot at SSNIT have kept quite or looked the other way."

His comments come in the wake of expenditure to the tune of $74 million on a software system for the Trust amid other reports of mismanagement.

In his opinion, the report by Deloitte and Touche needs to be produced as authorities wait for a report on another audit being conducted by PricewaterHouse Coopers.