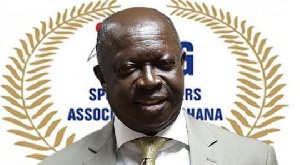 Thu, 28 Sep 2017 Source: GNA
The Sports Writers Association of Ghana (SWAG) has congratulated the Black Stars B for winning the 2017 West Africa Football Union (WAFU) Cup of Nations after beating their Nigerian counterparts 4-1 in the finals of the competition last Sunday.
A statement signed by the SWAG President, Kwabena Yeboah, noted that, throughout the competition the team exhibited determination and mental toughness to overcome many numerous challenges before and during the competition.

It said after a slow start, Coach Maxwell Konadu and his players accepted the challenge and improved match after match and even when they lost to Nigeria at the group stage and faced criticisms from Ghanaians, they never lost hope but maintained their focus to emerge as winners of the competition.

"The level of commitment and dedication exhibited by the team should be the guiding principles for other national teams when they are on national assignments for the country.
"The Black Stars wore the national jersey with pride and played with passion as they placed the national cause ahead of individual ambitions and monetary gains. These are very important attributes and values that must be emulated by all other national teams," the statement added.

The SWAG also congratulated Coach Maxwell Konadu, his technical assistants and the management committee of the home-based Black Stars for guiding the team to success, despite the harsh criticisms and the challenges they were confronted with at the beginning of the competition.

The statement finally congratulated the Ghana Football Association and the organizing committee for a well-organised competition and hoped that the experience gained by the officials will reflect in the organisation of local competitions.
Source: GNA